Madagascar 3: Europe's Most Wanted
It goes without saying that Madagascar isn't the most beloved animated franchise of recent years. While phenomenally successful financially, it certainly isn't as critically adored as Toy Story, as well-loved as its DreamWorks stablemate Shrek, or quite as big as the bewilderingly accepted Ice Age films. The general tone of wacky adventure rooted to a group of easily identifiable heroic, best-friend, sassy and worrywart pals never extends quite as forceful a pat on the head for children as Ice Age does, and never goes all-out in placating the adults with waves of irony.
Madagascar and its sequel Escape 2 Africa prodded some New York neurosis out of its central foursome, but mostly relied on Sacha Baron Cohen's lemur King Julien to keep the film afloat for kids via constant rendition of the decrepit Reel 2 Real song 'I Like To Move It'. With Europe's Most Wanted the series has finally found a voice, and the overriding feel that seems to best fit the adventures of Alex the lion and co is one of unabashed weirdness.
The series' plot of four pampered New York zoo animals in the wild attempting to get home informs the outline of Europe's Most Wanted, but after five minutes it takes a prompt detour. Still in Africa, after quickly deciding there's no place like home they are soon bursting though a Monte Carlo casino, being pursued by Frances McDormand's unrelenting animal control officer Chantel DuBois in an elastic and beautifully animated chase sequence. The gang join a travelling circus after crash-landing their monkey-powered jet, and upon hearing the circus is New York bound, stow away as a group of performing animals.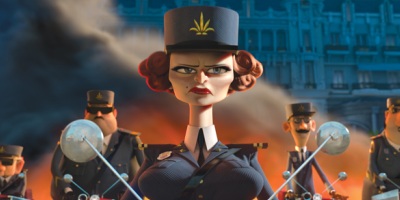 What distances Europe's Most Wanted from this year's similar A-to-B journey Ice Age 4: Continental Drift, is that Madagascar's indistinct fanbase leaves the filmmakers with only a few boxes to check. Ice Age has a nice sideline in the nut-chasing Scrat, but is otherwise relentless in its hammering home of the values of loyalty, friendship and family. Mercifully such lessons are only sprinkled throughout Europe's Most Wanted, which leaves much of the running time free to indulge in some strangely rewarding bouts of offbeat behaviour.
One of the more outrageous highlights is a lengthy detour in which Baron Cohen's bombastic lemur falls in love with a tricycle-riding bear. Eloping to the Vatican to see the Pope (to the strains of 'Con Te Partirò'), the duo skirt through the rest of the film on a Ducati motorcycle. If having a bear ride around on a small set of wheels is an act of unspeakable cruelty, putting one on a motorbike may be the funniest thing ever conceived. Touches like this are most welcome, recapturing the 'anything goes' style humour that defines TV shows like Spongebob Squarepants and Ren and Stimpy. Taking the series in a more surreal direction proves to be an inspired decision as the film progresses, with McDormand's French officer reviving her unconscious, bed-bound underlings with a rendition of 'Non, je ne regrette rien'. Elsewhere, as the animals realize they will have to revamp the past-it circus if it has any chance of seeing New York, forgotten star Vitaly (Bryan Cranston) recounts his old act of jumping through hoops of ever decreasing diameter, until we are staring through a ring that would throttle most fingers. It's funny, strange and oddly touching hearing the ridiculous account told with such a straight face, and it's the film's confidence in its overwhelming silliness that makes it such a winner, not to mention a beckoning paradise for stoners.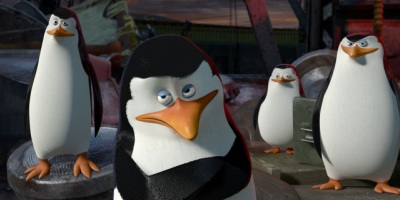 Even when Europe's Most Wanted comes back to the realm of children's cinema, the final set-piece is carried off in stunning fashion as the newly neon-lit circus fills the screen and the animals' final showdown with DuBois is played out. For once, 3D is a rare necessity, lending a muscular boost to the sequence instead of settling lazily on top of the action. There's been a fine run of animation recently, with ParaNorman and Frankenweenie picking up most of the kudos. Both bank on being a little more obscure than your average fare, but surprisingly it's Europe's Most Wanted that proves the most strange and rewarding of the lot.
About The Author