Need for Speed unleashes teaser trailer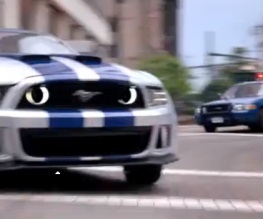 10 years ago, EA Games came out with a title that would grow to be the poster child for the gaming world. In a time of DOS & Sega Saturn, Need for Speed became world famous for capturing that real-time thrill of racing. It played on the wish fulfilment of pre-pubescent boys, giving them the animated versions of popular sports car to customize and race however they pleased until the cops managed to catch up to them.
Since then others like Project Gotham and Gran Turismo have joined the race, but none have ingrained itself into pop culture quite like the Need for Speed. So, with over 140 million copies sold, it comes as no real surprise that someone, somewhere in Hollywood has singled it out as their next money-making scheme exciting venture.
And to be fair, there's really no better time than now. The Fast & Furious franchise has proven that audiences are craving this kind of adrenaline rush, with their 6th instalment raking in the dosh and their 7th already building up quite the anticipation. Striking while the iron is hot, Dreamworks Pictures is now bringing us the film adaptation of Need for Speed, with Scott Waugh set to direct and newly unemployed Breaking Bad star Aaron Paul in the main role.
Watch out for whiplash in the break-neck teaser trailer below:
Where's the story you ask? Not quite here, that's for sure. While the oh! so pretty cars, racing montages and the rather stilted voice-over certainly creates the mood, we are still no closer to piecing together the story penned by George and John Gatins. Apparently it centres on Tobey Marshall (played by Aaron Paul) a blue-collar mechanic who races muscle-cars on the side in order to keep his family-owned garage afloat. Unfortunately, his wealthy and arrogant ex-NASCAR driving partner, Dino Brewster (Dominic Cooper), sets Tobey up and locked away for 2 years. The usual path of vengeance is followed upon his release with a high-stakes race known as De Leon being thrown in for good measure.
Need for Speed will be released in U.S. theatres on March 14, 2014.
About The Author