Jason Statham: completely predictable, completely awesome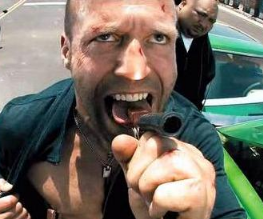 Jason Statham continues to amaze in the trailer for his latest epic, Parker, in which he is joined, rather unexpectedly, by Jennifer Lopez. One has to wonder if Jenny from the Block took the role simply for the opportunity to be groped by the increasingly attractive Jason Statham. God knows it's a hard proposition to turn down. Hopefully this will turn out better than her last foray into cinema, Ice Age: Continental Drift.
The film features Jason Statham as the titular Parker, some kind of gangster with a fetish for cosplay. He is almost immediately betrayed by Michael Chiklis (looking slightly more grotesque then he did as The Thing from Fantastic Four) and embarks on mission of revenge. Who saw that coming?
This trailer is absolutely ridiculous, combining as it does Jason Statham as a priest, then jumping out of a moving vehicle, then dead, then alive, then a Texan, then driving a car (classic Statham), then molesting Jennifer Lopez, then shooting and fighting and loving. The standard affair, you know.
It's rather difficult not to be impressed with the way Jason Statham is progressing his career. The man is charming, at the height of his popularity, and not a bad actor. Although one hopes his agent finally tosses him something that might be considered urbane and sophisticated, we can't help but smile gleefully every time the new Jason Statham shoot-em-up is announced.
As a special treat, we present to you Jason Statham before he became a genre unto himself, 1000 years ago in 2003:
Excited for Parker? Jason Statham: Zeus reincarnated, or simply Nietzsche's Superman? We'll find out when Parker smashes us repeatedly in the groin on the 25th January 2013
About The Author