Mars Needs Moms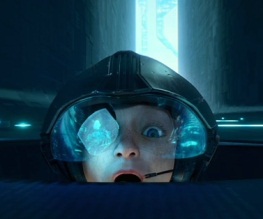 After being sent to his room for not eating his broccoli a young smart-arse called Milo pledges that his life would be better without his meddling mum. That very night martians arrive to abduct Milo's mum, but Milo, awoken by guilt, interrupts this nefarious scheme and manages to stow away on the martian spacecraft as it returns to Mars. Arriving on Mars Milo is discovered and imprisoned, only to escape confinement with the help of a fat, middle aged manchild named Gribble. Gribble, a human and cyberpunk of sorts, takes Milo to his secret lair under the surface and explains to him that Mars Needs Moms!
[FLOWPLAYER=http://uk.image-1.filmtrailer.com/67375.jpg|http://uk.clip-1.filmtrailer.com/6085_21534_a_5.flv,275,180]
Ok that last part probably could do with some elaboration. Martians are born from the ground and immediately separated by sex. The female children are raised by 'Nannybots', meanwhile the males are quite literally tossed into the trash – a giant garbage pile located in an enormous chasm under the surface of Mars. This complicated system of Amazonian gender apartheid is imposed by a sour-faced matriarch known only as 'Supervisor'. Supervisor is also instrumental in suppressing the latent maternal instinct of Martian women and in charge of mum kidnapping operations. You see, for some reason, the aforementioned Nannybots need to be reprogrammed with fresh memories from a good 'mom', and this is why 'Mars need moms'.
Believe it or not this bloated premise wasn't conceived by Disney, but rather is based on a children's book by American cartoonist Berkeley Breathed. Mars Needs Moms, then, demonstrates not only Disney's general lack of sense in even commissioning such convoluted nonsense, but also the studio's continuing lack of imagination. Disney, it seems, can still get some things right – the casting of voice actors for example, with Dan Fogler shining brightly as the enthusiastic and childlike ex-pat, Gribble. Sadly the voice acting triumphs of Fogler and his supporting cast are in vain because, apart from a few clever quips from the smart-arse kid ("Mars needs botox"), the script is dull and irritating in equal measure. Gribble speaks in catchphrases and, oddly, modern slang, this despite the fact he has literally been living on Mars for 30 years. Far worse, however, is the broken English and cringe inducing '60s hippy idioms spoken by the friendly Martian, Ki. Yet despite these shameless attempts to reference modern culture and be 'down with the kids' these two central characters have, between them, less charm and personality than any Pixar character of the last 15 years, including the lamp.
Ultimately, though, this talk of a weak script is fairly academic because absolutely nothing could have ever saved the project from the God awful animation. We shouldn't expect anything less than a horror show from Robert Zemeckis and his ImageMovers team – the studio responsible for bringing us the abominable The Polar Express – but this time they have really outdone themselves. Mars Needs Moms takes place in a universe where every humanoid character registers somewhere on a scale that goes from creepy to creepier. Creepiest are the children who resemble furry Cabbage Patch dolls, closely followed by the trash dwelling males, noble savages cast halfway between Stig of the Dump and Jar Jar Binks – invoking the latter not just in appearance but in blundering, clownish antics too. Overall the only character who doesn't induce instinctive revulsion is Gribble's robotic pet, Two-cat, but even if the accompanying grotesque circus of deformed human caricatures somehow doesn't unsettle you then the inter-species sexual subtext will – yes believe it or not someone thought that romantic subplot between Gribble and Ki would be appropriate and not at all disturbing.
As flawed the premise and as weak the script Mars Needs Moms will be remembered as another Robert Zemeckis horror show. If you want to take your kids to the cinema for their sake and your own just wait for Cars 2. Cars aren't scary. And don't have sex with aliens.
About The Author