The Twilight Saga: Eclipse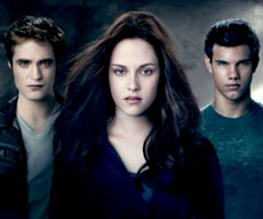 Over the past month, you cannot fail to have walked down the high street or through a train station without seeing the faces of three brooding teenagers glaring back at you. No, we're not talking about the local thugs, but the central characters of the latest in the Twilight saga, Eclipse. Love it or hate it, the hype surrounding the film has been inescapable. With a bigger budget, a star-studded cast and an incredibly popular third novel (by Stephenie Meyer) as its base, I headed to the cinema hoping that Twilight Eclipse would leave me with more than the lukewarm impression of its predecessors.
[FLOWPLAYER=http://uk.image-1.filmtrailer.com/33291.jpg|http://uk.clip-1.filmtrailer.com/4380_12645_a_1.flv,275,180]
'It all begins…with a choice'
We join Bella (Kristen Stewart) at a transitional point in her life where she has some important decisions to make. While classmates think about their choice of college and graduation parties, Bella ponders whether to ultimately join Edward (Robert Pattinson) as a vampire or to stay human – we all went through that right? To add to the confusion, Bella begins visiting the previously scorned Jacob (Taylor Lautner), and following his admission of love, she becomes confused by her own feelings for him. Meanwhile, in Seattle, there are reports of a series of massacres, and the Cullens suspect that there is a new vampire who is thirsting for human blood. But they soon realize that an army of 'newborns' are being intentionally created, and Alice (Ashley Greene) foresees that they are heading to Forks. The vampires form a reluctant alliance with the werewolves, who unite to protect Bella and fight against this dangerous force. Amongst the chaos, old pale-face pops the question to Bella, refusing to sleep with her until she is his wife – cue awkward, prolonged sexual tension.
Get a room!
Although I was fully prepared by the previous two films, I still couldn't help being completely grossed out by all the close-up shots of people snogging each other's faces off! The same can be said of the super-intense dialogue between the couples. I am wondering where all these committed, romantic types were when I was eighteen. My school was filled with spotty-faced (granted they hadn't the advantage of airbrushing) love-rats, who I only wish had changed their underpants as often as they did their girlfriends. I'd have looked a bit more cheery if I were Bella having the mysterious Ed and the superbly sculpted Jake fighting over me! The love triangle was irritating as it caused me to lose respect for the characters. I found that Bella became less likeable as she toyed with the hearts of the love-rivals and the embarrassing, bickering bravado of the male leads seemed to undermine the fighting masculinity they supposedly embodied. Would they really put up with Bella as she indecisively flitted to and fro between them? Then again, who is to say what is realistic in the world of vampires and werewolves?
Saving grace
That said, I could not fail to be impressed by the technology of the film and the development in visual graphics was outstanding. The snowy mountain scenes and the animation of the werewolves were truly memorable aspects. A scene in which the vampires train to combat the 'newborns' by fighting each other in the forest was particularly energetic and impressive, equivalent to the baseball match scene in the first film. A series of cleverly-crafted flashback sequences allowed us a deeper understanding of some of the more minor characters, such as the fiery attitude of Ed's sister, Rosalie (Nikki Reed).
Bite me
Eclipse, on a whole, shares the same dark and moody tone of the previous two films. I would argue that it exceeds New Moon, which was stagnant and monotonous in places. If you are looking for a film with all the components of a big Hollywood blockbuster, then this one is for you. Just avert your eyes for the slush sessions and you will emerge relatively unscathed. All that remains to say is that Edward, I don't care if it belonged to your dear mother, the engagement ring is a bit of a minger when all is said and done – come on, you were all thinking it!
About The Author