How Do You Know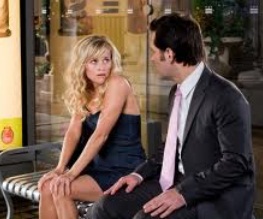 Lisa (Witherspoon) is in a quandary- a USA softball player who lives for her team, what on earth should she to do with her life now her playing days are over? While most of us would get a real job, she opts to lurch from a disastrous relationship with shallow Matty (Wilson) to an equally disastrous relationship with down beat George (Rudd). But who will she choose in the end? (Clue- it isn't the real job).
[FLOWPLAYER=http://uk.image-1.filmtrailer.com/53465.jpg|http://uk.clip-1.filmtrailer.com/5419_18832_a_1.flv,275,180]
How Do You Know is your typical rom-com, aimed squarely at the Valentine's Day market. The film is predictable enough- cute, perky girl spends far too long making her mind up between two handsome but opposing guys. While Witherspoon plays the part of sassy but neurotic Lisa well, this film needed the other characters to sell their stories equally convincingly as one woman cannot carry a film for nearly two hours without support- even if she is an Oscar winner!
And by and large, they did. Rudd was lovable as the corporate guy fallen on hard times, and his affection for Lisa was tender enough to melt even the most rom-com adverse hearts. In portraying a guy who is funny by accident instead of design, Rudd has proved that he does not always need to be pigeon holed as the 'comedy best friend' but has the talent and charisma to play the lead as well.
Nicholson as George's Dad Charles is just the right side of darkly selfish, setting up his own son to escape a prison sentence and then trying to manipulate the situation to come across as the victim. The fact there was no empathy whatsoever between Charles and George helped to make this reasonably believable, and Nicholson played it just right.
The main problem with this film could have been easily rectified if the editors had been a bit more snip happy. At two hours running time, even the most complicated of rom-com's would have struggled to keep the story interesting and this was no different. Lisa was supposed to be a sensible ballsy girl- so why on earth did she keep giving Matty a second chance when it was clear from the first five minutes of the film that he was a flash immature pig?
Yes Wilson is lovable and had some fantastic lines, but the character was so two dimensional it is a surprise he didn't fall over. If only they had cut out thirty minutes of Matty's scenes, this would have been a sweet and lovable rom-com. As it was, Witherspoon is good enough to carry most of the film on her slender shoulders, and she did have more than able support from Rudd.
It doesn't change the formula- but if you need a soppy film to smooch during on Feb 14th, this is the one for you. If not- wait for the DVD.
About The Author