Paul Rudd in talks to play Ant-Man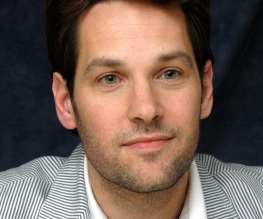 The next Marvel superhero could just have got his face with the news that Anchorman 2: The Legend Continues star Paul Rudd is in talks to play Professor Henry Pym in Ant-Man.
The Wrap reports that multiple sources have named Rudd, who's been toiling at the comedy coalface since 1995's Clueless, as the lead contender for the role, although neither he nor Marvel were willing to comment at this time. The Dark Knight Rises star Joseph Gordon-Levitt has previously been forced to deny his involvement with the film.
Ant-Man, which already has Edgar Wright attached as director, tells the story of a scientist whose revolutionary 'Pym Particles' allow him to greatly alter his size. He's also able to talk to insects (we think he's got a special helmet, and we're not checking because the 'Powers and Abilities of Superheroes' Wiki-hole is a dangerous one to fall down this early in the working day). He's also been an Avenger, so we can certainly expect to see him in 2019's The Avengers 3; however, with The Avengers: Age of Ultron due out shortly before Ant-Man (they're both landing in summer 2015) we're guessing he'll only get a passing mention or a cameo in the second of Joss Whedon's Marvel superfilms.
Sharper-eyed writers than us have pointed out that in recent appearances on SNL and the Anchorman promotional circuit Rudd has been looking much slimmer than usual – perhaps he's already in training for the role, which is likely to be very athletic. In case you missed it all those months ago, here's a taste of what Pym Particles can do:
…yeah, we'd be hitting the gym too.
Are you up for seeing Rudd-Man take the Marvel dollar? Let us know below!
About The Author