Salute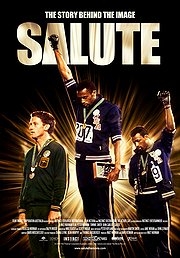 Since Salute was released in its native Australia back in 2008 it has won virtually every award available for Antipodean documentary film-making. So why have you still got no bloody idea who Peter Norman was? Don't worry, neither did I. Working through Norman's last years and after his death, his nephew Matt has produced a startling film which tells a story hugely deserving of a wider audience. Intimate, honest and meaningful – this is what documentaries are all about.
In 1968, the world was alive with protests. The American civil rights struggle led by Dr Martin Luther King Jr (who died on April 4th) was showing no signs of letting up, the soixante-huitards were fighting police in Paris and liberal Australians of all colours and classes were opposing the government's monstrous White Australia policy as well as the forcible rehousing programme which created the 'Stolen Generations'. In Mexico, two thousand protesters were shot in the build-up to the Mexico City Olympics, an event overshadowed by numerous racist controversies which nearly resulted in a Games boycott by black American athletes. However, a consensus could not be reached and so America's best – black and white – came to Mexico to compete.
Meanwhile, relay runner turned sprinter Peter Norman was preparing for his first Olympics. He came second in the 200m, setting an Australian record which still stands and placing between Tommie Smith and John Carlos, two black American runners. Smith and Carlos had agreed to use their moment on the winners' podium as an opportunity to make an overt statement about the ongoing oppression felt by African-Americans both at the Games and at home, and the liberal Norman decided to support their protest by wearing a pro-civil rights badge and agreeing to forgo the usual podium handshake. Smith and Carlos shot into the history books with their iconic salute, whilst Norman returned to Australia and to a sporting establishment which turned its back on him. "Tommie had me to hide behind", John Carlos observed, "and I had Tommie. Who did Peter Norman have?"
Although Salute is very much Matt Norman's breakthrough film, he's been a familiar face on Australian film and TV since the mid-nineties. However, it wasn't until he moved behind the camera that he began to build a true international reputation. Norman's apprenticeship in Neighbours, Blue Heelers (us neither) and, of all things, Ghost Rider obviously didn't go to waste – although virtually every shot in the film is static, the intricately woven combination of interviews, talking heads and archive footage, conversation and voiceover, even colour and monochrome is all masterful. It would be interesting to see him attempt something more uptempo, but for now Norman's technical skill is not in doubt.
Particularly given his family connection to the material, it might have been reasonable to assume that Matt Norman's virtually no-budget passion project would be an uncritical whitewash which extolled his uncle to the very heavens. And it sort of is, but that's okay – after all, Matt doesn't say a word. The bulk of the running time is taken up with archive footage and interviews with the three athletes themselves, both together and apart – there are intermittent appearances from other sportsmen and coaches, but it's implicitly understood that if you weren't standing on that dais you weren't, in any real sense, there at all. But Smith and Carlos were there, and both are extraordinarily generous with their praise – their amazement that Norman was willing to involve himself in what he could certainly have got away with regarding as a black man's quarrel evidently shakes them to this day. "I'd take a bullet for him," says Carlos at one point. "That day or any day since."
By contrast, Norman himself is charmingly self-effacing, emphasising the heroics of his fellow runners while minimising his own role in events. "I'd just like to be remembered as an interesting old chap", he twinkles, before the last few minutes of the film focus on clips from the eulogies which both Carlos and Smith gave at his funeral. It's an appropriately symbolic ending to an extraordinarily touching and important film – Matt Norman is currently in talks with Hollywood financiers about a biopic version called 1968, but even so you'd be doing yourself a disservice if you didn't see Salute and get a feel for Peter Norman's story first hand. He may have come away with the silver medal in 1968, but this long-overdue film finally puts Norman in pole position.
About The Author