Tinker, Tailor, Soldier, Spy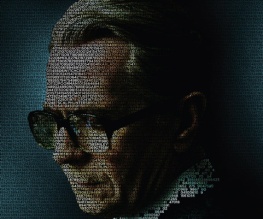 Of all the John Le Carré novels to adapt, there could be no more choice more divisive than Tinker, Tailor, Soldier, Spy. Already committed to celluloid via the medium of a memorable and still much-loved BBC series starring national treasure Sir Alec Guinness, the thought of a new adaptation (directed by a Swede, no less!) has doubtless ruffled feathers in leather-lined reading rooms up and down St James's Street. Well, bugger the purists, say I. Thrilling, faithful and boasting the most adept ensemble cast you'll see this year, Tinker, Tailor, Soldier, Spy is extraordinary.
George Smiley (Oldman) has fallen very far, very fast. In the space of a couple of years he's gone from holding a high-ranking role in the Circus (MI6 to you) to being a pariah; dismissed, disregarded and suddenly feeling very old. Smiley had the misfortune to be collateral in a coup which claimed the career of his mentor Control (Hurt), an archetypal old-school spymaster who was unceremoniously forced from his snoop-proof office by the ambitious Percy Alleline (Jones). A couple of years on, Control is long dead and Alleline has installed himself as head of the Circus, surrounded by like-minded modernisers Bill Haydon (Firth), Roy Bland (Hinds) and Toby Esterhase (David Dencik); Smiley, however, is out in the cold.
However, the situation is scrambled when Smiley's former subordinate Peter Guillam (Cumberbatch) contacts Smiley on a distinctly under-the-radar matter. Control was convinced that a Soviet mole had infiltrated the Circus, but his suspicions were dismissed as paranoia; that is, of course, until AWOL field agent Ricki Tarr (Hardy) unexpectedly reappears with new information which seems to corroborate Control's theory. Smiley begins to dig into the case, and at every turn he finds more troubling data. Why does Percy Alleline's top-secret source 'Witchcraft' require the use of a London safe house? Why was money being withdrawn on behalf of Jim Prideaux (Strong) two months after he was reported killed in Budapest? And to use Control's own code, should Smiley be watching the Tinker, the Tailor, the Soldier or the Poorman? The game is afoot.
…Did you get all that? John Le Carré made no concessions for the fact that his readers were probably not, as he was, MI5 and -6 trained spymasters, and his plots are famously complex and impossible to skim-read. Believe it or not, this film substantially simplifies the original story, combining various secondary characters and omitting non-essential subplots wholesale in a desperate attempt to squeeze the myriad twists and bluffs into Tinker, Tailor, Soldier, Spy's already generous 127 minute running time. It still feels a little hurried and I don't fancy the chances of viewers who haven't read the book; perhaps a TV series was the more obvious medium for an adaptation after all.
That said, 'it's a little hurried' is genuinely my only criticism of the film. Alfredson's characteristically deft touch translates as fluidly to 1970s London as it did to 1980s Stockholm; he resists the temptation to emulate Le Carré's mania for beginning stories in medias res, and clarifies the book's overcomplicated multiple timelines by illustrating its back story through a confident blend of flashbacks and unobtrusive exposition. It could easily be disorientating to be so thoroughly thrown into the evocative world of the late Cold War, but the film's exquisitely well-handled visuals complete the transition perfectly; the washed-out palette of browns and greys evoke the secret but still fundamentally civil service-y corridors of power much more realistically than in the gleaming MI6 headquarters of the Bond films.
In fact, in many ways Le Carré and George Smiley are the anti-Fleming and anti-Bond – Smiley the plump, dusty spymaster is everything that Bond the brash sexist dickhead is not. Gary Oldman may not have packed on weight for his role, but his Smiley is an easy rival to Alec Guinness'; cherishing the virtues of silence and inaction, he has comparatively few lines but dominates every scene he's in (which is every scene, more or less) through sheer presence. I've never seen a man sit still with such poise; this is certainly the year of Oldman's long-overdue Oscar nomination.
Although Oldman carries the film, it would barely have wobbled had he faltered under its weight; the supporting cast which surrounds him is uniformly excellent, with particularly memorable turns from Benedict Cumberbatch and a pleasantly supercilious Colin Firth. Toby Jones was criminally underused, as ever, and it would have been nice to see a little more of Mark Strong and a little less of Tom Hardy, but they all did sterling jobs. It's also impossible to avoid mentioning Kathy Burke, whose tiny role as ex-Circus researcher Connie Sachs is pivotal and perfect.
It remains to be seen whether the Academy will be willing to laud two understated British dramas in a row, although I suspect the dark and morally neutral tone of Tinker, Tailor, Soldier, Spy – which is very happy to imply that the Free West was not so much more free or liberal than the Soviet Union – will go down less well abroad than did the heart-warming royalist message of The King's Speech. Nevertheless, this is a superb film and one which richly deserves the critical acclaim it's already receiving. One hopes that, unlike the Circus and its camera-shy star, it will manage to stay out of the shadows.
About The Author