SHORTLIST: Crank 3 – Festive Spirit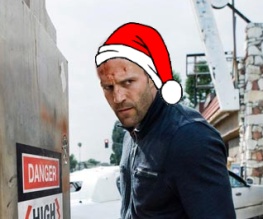 Twas the night before Christmas, when all through the house, not a creature was stirring, except for The Stath as Santa, who is seething upon learning that his head elf (Miguel Ferrer) has sold him out to North Pole cartel boss, El Grincho (Danny Trejo).
Danny Trejo has stolen the naughty list and kidnapped Mrs. Claus (Summer Glau) thereby draining Santa of his Christmas spirit. Now our Jase must hunt down and beat down El Grincho to get his list of all the bad boys and girls back. But it won't be as easy as that, along the way he must constantly remind people of the true meaning of Christmas or he will cease to exist.
This festive Crank spin-off from hyper-directors Neveldine/Taylor is a joy and adrenalin pumped antidote to a traditionally dull Christmas time box office. Jason Statham seems to relish making Chev Chelios into Santa Claus, cleverly subverting the big man by growing a white goatee and donning a red tracksuit with white fur trim. Holiday cheer and the spirit of giving seeps out of his every punch and scowl, but you'd better not cry or pout or this Father Christmas will put you through a spray snow stencilled window.
The fight scenes are sure to blow your baubles off and the explosive sleigh chase is so festive it will leave you picking tinsel out of your eyes. The only problem with this yuletide, action masterpiece is that it is too short.
CRANK 3: Festive Spirit explodes like a semtex cracker; with a joke printed on highly flammable paper, nitroglycerine soaked party hat and a red, fortune teller fish toy carved from dynamite, onto a screen near you on the 17th of December.
By Alan Simmons
To vote for Crack 3 – Festive Spirit click the "facebook like" button at the top of this page.
Back to Write Christmas
About The Author