Death Wish At Christmas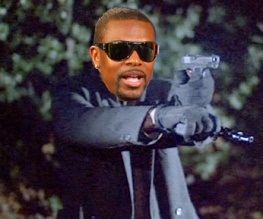 Despite being a surprise sixth edition in the Death Wish series, with some fans voicing concerns over Winner's ability to relate to the common man and the modern world, Winner has managed to intertwine bone crushing violence with the necessary festive cheer for this time of year.
Casting meetings reportedly took place over the course of an entire year and concluded when the lead role of Paul Kersey went to Chris Tucker (Rush Hour 1, 2, 3 and Friday). Writers Ross LaManna (Rush Hour 1, 2 & 3) and Jeff Nathanson (Rush Hour 2 & 3) have insightfully set the movie during Christmas in Hong Kong where Kersey under the stresses and strains of years gone by finally has a psychotic breakdown. It is not all bad because the psychosis produces imaginary best friend and vigilante partner, Chang, played by Jackie Chan (Rush Hour 1, 2 & 3).
With little or no family or friends left to be brutalised on American soil Kersey travels to the Chinese region of Hong Kong to visit the half-brother he never knew he had, until he spotted the post-it note on his fridge. The word "brother" had been obscured all these years by a "If he's Northern and Korean, shoot him in the face" fridge magnet. Never having a minute to rest, on his arrival Kersey discovers his half-brother, LeDwayneSean Ahmed, played by Ice Cube (Friday), is the kingpin of copying DVDs and selling them in pubs abroad. As gangsters try and muscle in on the lucrative business LeDwayneSean meets an inevitably grizzly death and is found floating face down in an inflatable paddling pool. Kersey exacts revenge as no other can and in the ensuing bloodshed meets his future bride when in the midst of a chase scene he evades capture by seamlessly blending in to an open air trampoline class.
There will be critics of this movie, particularly those who have come to crave the tenacity and action that Bronson supplied as Kersey. Furthermore, there will be groans about straying from making a political, or even philosophical, statement as in previous films. The idea of one man fighting for a cause that we all wish we had the courage to fight for. But so what? So there is no subtext or message. So what? So there is barely a tenuous link to the preceding Death Wish instalments. So what? So the more you focus on the level of acting in this film it makes Tamzin Outhwaite's performance in 7 Seconds less worthy of being held responsible for your suicide. So what? It is Christmas. This film has snow, Americans, carols sung in Cantonese English and vomit inducing human butchery. Fa-la-la-la-la, la-la, la, la!
By Rishi Ganguly
To vote for Death Wish At Christmas, click the "facebook like" button at the top of the page
Back To Write Christmas
About The Author