Say Hello To Santa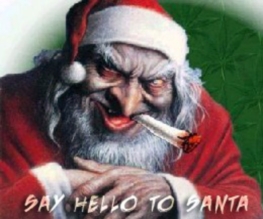 Terrifying and gruesome, Say Hello To Santa is a horror movie like no other. James Wan's uncharacteristic presentation of Santa Claus is interesting, unique and extremely frightening. As expected, there are lots of gory deaths and bloodbaths, which is the reason why I say that this is not a movie for the faint-hearted.
The film opens with Ty (Hanks), Matt, (Pendleton) and Charlie (Gambon) applying for jobs as department store Santas. When Matt is beat out by a tax accountant for the job, he sneaks into the man's house in the middle of the night and murders him in his bed. Since he was the next most preferred candidate, Matt gets the job he desired.
From then on, the story follows Ty, Matt and Charlie as they work in different department stores following orders from an unknown boss to kill, torture and execute people that have been chosen for that particular purpose. As the body count gets higher and higher, the boss reveals their final task. They must find and kill the real Father Christmas (Cosmo).
As the three men continue on towards their goal, a young boy (Beaumon) becomes aware of their motives. He then discovers that he is the only one who can stop them and save Christmas and Santa Claus from being destroyed. Thus follows a perilous journey as the boy finds a way to reach Father Christmas and tell him all about the plan – that is, before the men masquerading as Santa Claus decide to kill him.
A chilling premise and a talented star cast make it hard to tear your eyes away from the screen – even during the really gory bits. This spine-tingling thriller provides a fresh take on Christmas and is the perfect movie to watch on your night out with friends. Just make sure that you keep your kids away from the Santa Claus at your local department store!
by Mehak Naaz
To vote for this entry click the "Facebook like" button at the top of the page.
Back to Write Christmas
About The Author