How To Train Your Reindeer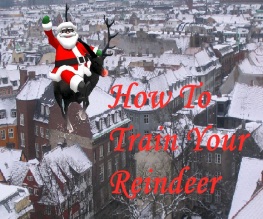 Santa Jnr. is a pale but by no means slim imitation of his legendary Father, Santa the Vast. Knowing he is destined to deliver presents on behalf of lazy parents for the rest of his life, Santa Jnr. fights reluctantly for control over his own destiny. That is, until he meets a young reindeer called Rudolf. Tapping into the mysterious flying properties of some species of reindeer, Santa Jnr. slowly reinvents the present delivery business as he grows to love his new companion, building a fleet of gravity-defying deer in the process. Now able to deliver presents in half the time, Santa Jnr. even has time to take care of numerous new-found contractual obligations to Coke, Sony and McDonalds before completing his annual Christmas duties.
The latest film from Pixar who, in a groundbreaking turn of events, appear to be riffing off a Dreamworks idea, How to Train Your Reindeer is a heart-warming tale of friendship overcoming great odds, great cold and the law of gravity. With Tim Allen voicing Santa Jnr. – who else could convince? – and Seth MacFarlane starring as everybody else, we are whisked away from Lapland as Rudolf takes to the sky and brings Christmas to planet Earth in an efficient, time-saving and cost-effective manner.
Hearts will soar as the beautifully animated characters frolic before your eyes, blossoming thanks to some of finest use of 3D this side of Clash of the Titans.
By Steven Neish
To vote for How To Train Your Reindeer click the "facebook like" button at the top of the page
Back to Write Christmas
About The Author