Silent Night – Armageddon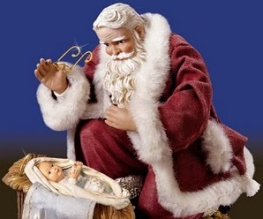 Imagine Christmas without snow, without decorations, presents, Santa Claus, and even baby Jesus. That's the basic premise for 'Silent Night, Armageddon.' Baby Jesus and Santa must journey to the top of the world so that Jesus can ask his daddy where Christmas has gone before the clocks of the world strike midnight on Christmas Eve and Christmas – as we know it – ceases to exist.
Co-directed by Renny Harlin and Frances Truffaut, the pacing is sometimes uneven, the narrative at times propelling us along and then, without warning, entering a sudden glade of stillness and silence. The switches from black and white to colour are similarly jarring and unnecessary. These lapses aside, the script is as tighter than the accommodation situation in Bethlehem, from whence our heroes embark on their epic quest.
The film is at its best in the action sequences, each of which Truffaut handles adroitly and with an explosive humour that it is hard not to warm to – particularly the main set piece in which Baby Jesus struggles, bearing Santa on his back, to cross the infamous Cornice Traverse near the summit of Everest.
It's hard not to see Harlin's fingerprints over the lens in the less successful dream reveries. His subdued style, where motive and consequence are suggested rather than shown, strike the only real bum
notes in this otherwise heartwarming treat for the whole family.
Admirably, however, as was leaked by the producers (no doubt to create the advance 'buzz' the studios desperately strive for), Harlin fought to keep Silent Night – Armageddon a CGI-free zone, which makes some of the mountain shots (including not only Baby Jesus and Santa, but Rudolph and his red-nosed brethren) all the more remarkable. In this era of animation, 3D wizardry and all round razzamatazz, it's refreshing (and slightly humbling) to be reminded of what can be achieved with make-up and a good wig.
Watch out for inspired 'blink and you'll miss 'em' cameos from Christian Bale and Daniel Day-Lewis who, if the rumour mill is to be believed, lived for two years as reindeer.
So if you're after a little seasonal cheer, dust off your ermin, get our your chestnuts, and ride with Jesus and Santa on the journey of a lifetime.
Without wishing to spoil too much, If the high standards of the first film are maintained then next year's sequel, Silent Night, Armageddon – Part II in which Baby Jesus (and Santa?), armed with their newfound knowledge must battle to reclaim Christmas for the children, should be a real Christmas cracker.
By Simon
To vote for Silent Night: Armageddon click the "Facebook like" button at the top of the page.
Back to Write Christmas
About The Author