The Hypocrisy of Angels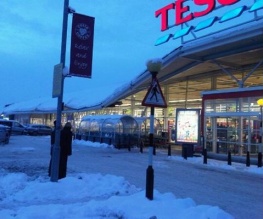 XY stars as Catrin December, the nice Catholic school girl, harp playing author of the sketchbook that is this movie. In neat black ink she labels everyone in her world and her small English town, from the chavs outside Tesco (and a key chav, Mark Walker, sketched in meticulous detail), to her ridiculous, alcoholic, bitter, charming, screenwriter Santa Claus father, to the angels in the stained glass windows, to Father McCartney and the irreverently nicknamed Bags Of Saint Pauls, to The Floozy and the Homewrecker (her mother and her mother's boyfriend in far-off London).
It's December, and everyone in this film is hoping for a miracle; Nick December is hoping for Hollywood to notice him, for his ex-wife, for his big break; Father McCartney, as he stands at the altar, is hoping for the return of his faith; Mark Walker (ZQ) is hoping for Missis Walker to turn her face away from the wall, hoping for anything that will be better than hanging around in the cold outside Tesco. And Catrin is hoping for lots of things. Catrin is hoping for a desperate white Christmas, and most of all- most of all she is hoping to fall in love.
And one day- one day she does. Scattering her books, music and, in a moment that shows the skill of the director, a fistful of Tampax across the concrete outside Tesco, she meets Mark, who hands her back her belongings. And of course they fall in love, because this is movie land. They fall in love, and we learn the story of Missis Walker, Mark's mum, who has turned her face to the wall.
And Catrin wonders. Why would the angels help fix the broken hip of the chief Bag at Saint Paul's, and leave Missis Walker? And as Catrin questions her own faith, mapped out in voiceovers and sketched out ideas, we start thinking about Christmas, about Christmas, and about hope, and about miracles, and about angels.
This film is one of those Christmas films that isn't really about just Christmas. It's one of those films that's about everything. It's one of those films that feels real; one of those films where you feel like you know and care about everyone involved. I know this review is confusing, but to give away the plot is to spoil the film. Suffice it to say, when the snow falls on that sleepy English town on Christmas Eve, you're laughing, and you're crying, and left with a curious feeling of exhilaration, all at once. Watch it. Please go, please watch it.
By Ella Risbridger
To vote for The Hypocrisy of Angels click the facebook like button at the top of the page
Back to Write Christmas
About The Author