The Jolly Man From Another Place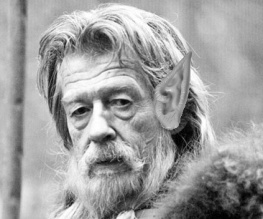 Focusing on the town of Bumblescum, Montana, the film opens with the discovery of the body of the town's favourite sweetheart, the beautiful homecoming queen only ever referred to as Bébé G. Suss (Kirsten Dunst), who has been suffocated and dumped in the front window of the high street manger store. Investigating the murder is Detective Frank Incense (Kyle Maclachlan) chosen because he's man without a family, a man who can delve into the unseen life and troubles of the victim and her family in a reasoned and logical way.
His investigation is beset by problems – the townsfolk are very reluctant to respond to some of his more searching questions, questions they don't want to even hear let alone give answers to – but his obsessive desire to get to the bottom of the case leads him down into murky waters as he discovers the debts she'd had to pay, the way her debtors had traded her around to pay for shady deals, how her shame meant that no one could ever know so she had never gone to the police.
All the while the detective's dreams are haunted by a figure clad in red and white whose booming voice chases him into shadows where he is grabbed at by tiny hands. Over and over he wakes up to find curious notes listing toys, small animals, confectionary and spelling errors. He exhaustively indexes them, comparing the items and cross referencing the hand writing styles, developing insomnia as the words and notes start to blur into one when he suddenly realises that the first one he had seen was found on the body but had listed only people's names: but they were just the kids that Bébé had babysat.
Revealing himself, the note leaver turns out to be one of Santa Claus's elves (John Hurt) who explains that the workforce is made up of kidnapped children who are eliminated as soon as they become too old. He managed to smuggle himself out of the workshop in a wooden horse and has been in hiding ever since, trying, he says with trademark intensity, "to avoid the naughty list."
The film descends into a terrifying finale as the pair attempt to track down Santa Claus and stop him. On the way they encounter incredibly hostile Middle Americans whose liability in the affair has been uncovered; scores of brutalised children who were unable to keep up with the work load who exist in a secret crawlspace of a nightmarish processing factory where they are ruled by a freakish child that looks suspiciously like a cow foetus. Lynch is reported to have said this segment of the film was "a metaphor or some such thing. I thought of them when I was meditating, stop asking questions."
The movie is underpinned by incredibly atmospheric sound design that is specifically designed to irritate only 60% of audiences – this is the baseline percentage of philistines per audience – while making the rest coo with delight and self satisfaction. All in all Lynch has delivered, yet again, a broodingly intense film that deals with his twin interests of the seedy underbelly of small town America and vicious murders of young women. If it flops, no doubt, it will go on to attain cult status and give film students headaches for many years to come.
By Rowan Emslie
To vote for The Jolly Man From Another Place click the facebook like button at the top of the page
Back to Write Christmas
About The Author