When Santa Attacks!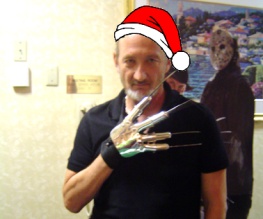 Christmas Eve: Santa Claus (Englund) has finally become unhinged after centuries of suffering through stale cookies and luke-warm milk. Feeling unappreciated and vengeful, he decides that this year he is going to prove, once and for all, who the Grand Mack-Daddy of Christmas really is. With the help of his sadistic side kick, Flopsy (McGinley) and the Director of Elven Relations, Rudolph R.E. Indeer (Morgan), Santa decides to unload his holly, jolly fury on the unsuspecting masses of Everywhere.
Christmas Day dawns bright and bloody. Everywhere is in chaos–good children crying over coal, and the especially naughty children tormenting the rest with machetes, rocket-launchers, and Super-Mega-Awesome Flame Thrower ZX2000s. Everywhere is in desperate need of a hero…but not just ANY Hero. They need Broody McSexyhero (Lloyd), an Everywhere-renowned Hero known to subdue even the Evilest of Evil doers with the sheer power of his Fabulous Hair, Epic Pout and OMG-Sexy Accent of Doom. Along with the help of Top Secret organization, D.A.R.L.F. (Defense Against Rogue Legends Force), it is up to Broody McSexyhero to use his Powers of Hero to subdue Santa and save Christmas for another year.
This movie artfully combines an Epic action-adventure story with the much beloved Christmas story, Twas the Night Before Christmas. The movie is beautifully shot, with well-scripted Hero monologues, a great cast, and one of a kind action sequences. It is definitely a must-see for this holiday season!
By Sabra Schirm
To vote for When Santa Attacks click the "facebook like" button at the top of this page
Back to Write Christmas
About The Author