Jingle Balls: With A Vengeance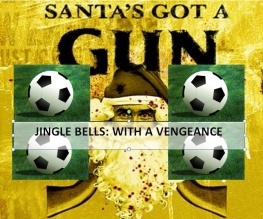 Twas the night before, the night before Christmas and the 'Festive Kings of London' football competition has just kicked off… Unfortunately for the rich Chelsea hosts and the thousands of fans packed into Stamford Bridge – the stadium is taken over by vicious armed robbers keen to help themselves to an early Christmas present of the takings from the event. But when the Tottenham team arrive late (due to Robbie Keane having arranged an unauthorised pre-match Christmas drink) and stumble upon the robbers, all hell breaks loose. Can the boys from White Hart Lane save this harsh Christmas penalty?
Wesley Snipes plays against type as Didier Drogba – who looks great in a Santa hat – stealing several of his scenes especially in the moving sequence when one of the armed robbers gently brushes past him in the corridor and Snipes goes down screaming and rolling on the floor in 'agony'!? Shia Labeouf steps up his action hero credentials in the lead role of Tottenham's Rafael van der Vaart who has some unforgettable lines including the iconic "Yipee-Ki-Ay – – Santa".
Some viewers have complained about the gratuitous scene where the entire Arsenal team are slaughtered, saying that it was too graphic for a Christmas movie – especially the scene where young Theo Walcott (the cinematic debut from Justin Bieber) is shot just as he thinks he's through on goal. The controversy surrounding the film increased when some Arsenal fans had to leave the screening I was in due to the distressing nature of the moment where Cesc Fàbregas (a brave turn from Ewan McGregor) dies in the arms of Robin van Persie (Jake Gyllenhaal) – it really brought tears to the eyes. On a lighter note, do look out for the Bruce Willis cameo as the hot dog seller wearing Rudolph antlers outside the football ground.
Although the plot may be hackneyed, the action never flags and the triumphant Christmas Tree scaling climax which sees Jermain Defoe (Elijah Kelley – following up his breakthrough role in Hairspray) chasing the robber's mastermind *Spoiler Warning* who turns out to be a disgruntled Fabio Capello (played by Harrison Ford) *Spoiler Ends*.
All in all Jingle Balls: With a Vengeance will please football and action fans alike and it even sets up the possibility of a rugby related sequel during the final credits.
What more can I add to the poster line which I feel says it all: "This is the Christmas film with the biggest balls!"
By Matt Adcock
To vote for Jingle Balls: With A Vengeance, click the "facebook like" button at the top of this page
Back to Write Christmas
About The Author