Burning Bright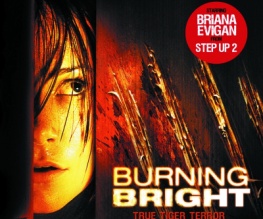 Low budget films need a few choice elements to get the glossy feel of a big budget movie. Those elements (and this is only common sense) include decent acting, an engaging storyline, a tight script and action that places little to no reliance on special effects. After watching Lionsgate's Burning Bright, I'd unhesitatingly add a final element to that list. Every low budget movie should have a tiger.
Briana Evigan (who played one of the leads in Step Up 2 of all things) is convincing and charismatic as the young woman who's thrown away a college education to support her severely autistic little brother. Thrown away? Not quite. Her feckless stepfather (played marvellously by Garret Dillahunt of Terminator Chronicles fame) has pilfered her entire savings in order to build a safari park in the dusty middle of Nowhere, USA.
Filled with frustrated dreams of killing her brother by night and a fierce sibling love by day, our heroine accepts the inevitable and moves into the family home in the middle of the safari park. On the first night of her return she wakes to find herself trapped in the house, with all the doors and windows boarded up and a hurricane raging outside. Her little brother is nowhere to be seen. And what's that fluid shadow at the bottom of the stairs? Tiger, tiger…
Burning Bright – More than just a film with scanty girls, Meat Loaf and a tiger
When you hear a film described as "a movie about a girl trapped in a house with a tiger oh and by the way it's got Meat Loaf in it", you can't help thinking – Oh. Yet this film is more than the sum of its parts. It's Briana's task to hold the movie together as the lead, and she is more than equal to the task. After an ambling start, you have to remind yourself to breathe and stop sitting in that brittle hunch-shouldered way. Unlikely as it sounds, you're engulfed in non-stop breath-squeezing suspense as Briana has to figure out a way to keep herself and her brother alive.
The tiger itself is beautiful to look at – and while not as menacing as an acid-dripping alien or a host of 3D piranhas, it provides killer thrills as we follow Briana's efforts to control it in a battle of wills. Wisely, the film avoids any CGI except for a couple of smoothly-handled moments where using the real deal would be fatal. We are told that a real tiger was filmed in the confines of the house, and this was spliced with the actors in the same environment. The quality is such that you'd never guess.
Prepare to be almost sick with excitement as Briana navigates her way around the boarded-up home to protect her brother, finds tools to aid her in her predicament, and find increasingly fragile hiding places in which to survive. The set pieces and unremitting tension are marvellous (the best sequence being one involving Brianna, the tiger and a laundry chute) but what really makes the movie is the presence of the autistic brother as a severe limitation on what Brianna can and can't do to survive. The lad doesn't like the colour red, he needs food at set times delivered with artistic precision, he likes to watch TV to the exclusion of everything going on around him (honestly, there's a time and a place) and he won't be touched – not even if Brianna is striving to guide him out of danger.
Burning Bright – DVD / UK Cinema release
Burning Bright has gone straight to DVD in the UK but it deserves a cinema release. London filmsters will get a chance to see its UK premiere on the big screen at Frightfest 2010.
In all, this is not so much a horror film but a really well executed thriller with strong performances and fun all round. Short and sweet – you won't find a better movie with a tiger in it anywhere! Jungle Book, we're looking at you…
About The Author