Greenlight Ahoy: Five Troy McClure Movies We Really Want To See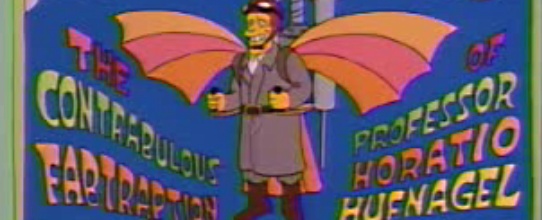 Hi! I'm not Troy McClure. You might remember me from other such features as Top 10 Aimless 80's Nostalgia Trips and Waffling On About Something Irrelevant That Causes Me Disproportionate Anger.
Here's six horrible, horrible words for you: Alvin and the Chipmunks: The Squeakqual. When that shudder going through your very soul has passed (be patient, it'll take a while) feel free to ponder on the title of this rancid, rancid film. Remind you of anything? Yup, it's exactly the kind of B-Movie turd you'd expect Troy McClure to be "starring" in. And this got us thinking: What if  Hollywood, already a dearth of decent ideas, turned to the King of Infomercials for inspiration? Leave your fish safely locked up at home and join us as we ponder the possibilities of…
Number 5: Good-Time Slim, Uncle Doobie, and the Great 'Frisco Freak-Out
Why this one, then?
Everybody loves a bit of stoner comedy. Well, we say 'everybody' – it's principally chronically toasted stoners, but still. Unique in this list in the fact we actually get to see a portion of the film itself (Homer's watching it on TV), what little we see points to a classic in the genre, easily able to sit alongside Up in Smoke and, um… Tarka the Otter.
Tell us more, dammit!
So here's the setup: Perma-high conman Good-Time Slim (Nicolas Cage) enlists the help of wacky bagman Uncle Doobie (Chris Rock) to steal $6 worth of weed from a confused homeless man living under a bridge. Their ker-azy antics are soon the talk of the town, but "The Man" (Alan Dale) has other ideas. He wants those beatniks pepper-sprayed and beaten, pronto!
Number 4: Earwigs, Eww!
Why this one, then?
A title to evoke feelings of brooding, creeping horror – but horror more psychological or family-based, like the stuff you might find in an M. Night Shyamalan film if he weren't so busy befouling his career.
Tell us more, dammit!
Nervous postman Hacky Spurious (John Cusack) lives in a world of mild, vague dermapteraphobia.  Entering strangers' gardens on a day-to-day basis, he has to avoid overhanging branches and both small and medium-sized bushes, for fear that the mild distaste he feels for certain insects may make him utter that portentous, girly squeak, "Earwigs, eww!". His wife Morg (Charles Napier) tries to understand, but finds herself more and more attracted to Mr. Twistending, Hacky's boss, who is an earwig, albeit a charming and well dressed one.
Number 3: Leper in the Backfield
Why this one, then?
Not only will this produce another in the longstanding tradition of baseball films (go to hell, Field of Dreams!), but positive representation of lepers would at least give Hollywood that sort of right-on, hug-the-world vibe it's so sorely missing.
Tell us more, dammit!
Dirk Muchomacho (Mel Gibson) is a hot-headed, hard-drinkin', fist-faced baseball ball hitting and running type o' guy. But his fiery temper gets him into trouble when calls an opposing team's mascot a "****sucking leper" on live TV. His hilarious (yet insightful) coach (an uncredited appearance for Norm from Cheers)  gives him a hilarious (yet insightful) penance: he's to play the team with… wait for it… wait for it… a leper (Steve Buscemi) in the backfield! This goes for as long as ears, fingers et al falling off lepers in baseball-related mishaps continues to be funny (eight minutes), and We Have All Learned A Lesson.
Number 2: The President's Neck is Missing
Why this one, then?
Taking its cue from the likes of the Bourne series, The President's Neck is Missing has the potential to ramp up the tired, toothless genre of the political thriller with some devious backstabbing and, more importantly, the stealing of necks.
Tell us more, dammit!
Mallory Grandstand, President of the United States (Michael Cera) is about to deliver the historic speech that will guarantee world peace at the United Colours of Bennetton World Summit. But on the day of the speech, he wakes to discover that Anarcho-Communist Terrorists have stolen his neck! Fearing the world won't take seriously a man who looks like The Rock, it's up to hard-working, steely-jawed CIA agent Rufus Bulletdodger (Will Smith) to find the President's missing oesophagus in time. But will his deteriorating relationship with his wife Morg (Charles Napier) survive?
Number 1: The Contrabulous Fabtraption of Professor Horatio Hufnagel
Why this one, then?
As any self-respecting Simpsons fan already knows, Troy turned down a starring role in McBain IV: Fatal Discharge to produce, direct and star in this polysyllabic, day-glo kid's flick. And that's reason enough, right?
Tell us more, dammit!
Professor Horatio Hufnagel (Dustin Hoffman) is the most fun-lovingest inventor at Supa-Dupa Toyz Ltd. But there's a problem! All the nippers of the world are more interested in your X Stations and your Robo Transchangers than the homely wooden tat Professor H produces.  So the wonderful, chumderful Hufnagel sits down at his drawing board and creates his Contrabulous Fabtraption, whence he proceeds to hang around playground gates, trying to sell it to kids. Guest starring Abigail Breslin as Harrowed Child #1.
About The Author