Budget Tom Jones Film Outselling 'This Is It'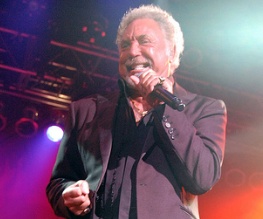 Admittedly, only in Wales. But still. How often do the latest trends start in Wales? That's right, 100% of the time.
A Welsh independent film made for under £100,000 is currently outselling blockbusters like The Fourth Kind and This Is It in cinemas in Wales. The film, entitled A Bit Of Tom Jones? was originally intended to go straight to video, but after investors expressed interest in the film, Vue picked it up and began showing it in selected Welsh cinemas. And after hearing about the plot, we can understand why.
The film is a bawdy farce about an attempt to sell the severed manhood of singer Tom Jones. Why this film hasn't been made before now is beyond us. Bernie Snowball, the brilliantly-named manager of the Market Hall cinema in Brynmawr, said: "I'm not surprised the film is doing well. It's a laugh-out-loud comedy, with the added bonus of being set in Wales." Added bonus of being set in Wales, indeed.
The point is, for those who are desperate to see this film (ie everyone in the world), we may yet be disappointed. Though the Welsh makers are in talks with cinemas across the UK, there has been no confirmation about distribution anywhere else. Come on people, now is our time to shine! Email, telephone, get a tattoo- we need to get this film global! Do people enjoy stories about Tom Jones' genitals? It's not unusual.
About The Author