TGIM! Film4 Summer Screen at Somerset House
It's Monday. The Olympics are over; Boris has handed the flag to an overly exuberant mayor of Rio, the flame has quietly gone out and athletes are waking up all over the Olympic Village this morning, hungover for the first time in four years, climbing out from beneath a Hungarian who came 7th in the discus and sneaking away wearing nothing but their medals. Clank clank clank go the medals. Fill our empty lives cry our tortured souls. Now what are we going to do? It's a full 16 days til the Paralympics get under way and we feel like empty husks without the BBC's constant coverage, but hark – what's that – there, by Somerset House? If it was the seething outdoor mass of united humanity that really did it for you during the Olympics, then you can join us in Thanking God It's Monday because Film4 Summer Screen at Somerset House starts again this week.
Watch the video and tell me you don't just feel the darkness lift. Somerset House has really got it going on; it's the home of London Fashion Week, in the summer 55 fountains lift the soul in the courtyard and in the winter it transforms into an ice rink (remember when Pippa 'Bottom' Middleton skated there at Christmas and the world lost their mind?). On Thursday, Film4 Summer Screen will also descend, bringing a different open air cinema showing every night for twelve nights.
That lovely courtyard is actually called The Edmond J. Safra Fountain Court and that massive great screen just so happens to be state-of-the-art with full surround sound. Wooo. This summer season kicks off with On The Road, and then The Birds, Enter the Void, Chemical Brothers: Don't Think, The Watch, Apocalypse Now, Bicycle Thieves, Paris, Texas, Boogie Nights, Pretty in Pink, Indiana Jones and The Temple of Doom and the UK premiere of Lawless. That sounds like just the sort of thing to fill our empty evenings. Find some friends, grab a blanket, sneak in a picnic, accept that the bar will be really expensive and get yourself down to Somerset House. There won't be much running (except from Indiana, he runs quite a bit) but there will be the joyous collective spirit of mankind in close proximity, hunkered beneath a blanket, appreciating London at its best. See you there.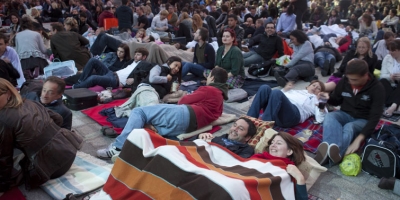 Before each show there's also a series of talks called Behind the Screen, "offering a glimpse into the minds of directors, actors and industry insiders behind this year's Film4 Summer Screen films". Tickets are sold separately to the main feature but you get a complimentary drink, reserved seating in the courtyard and the Behind the Screen bar is right beside the River Terrace. It all sounds glorious.
Which one are you going to see? Let us know below
About The Author