20th Century Fox to play the Pied Piper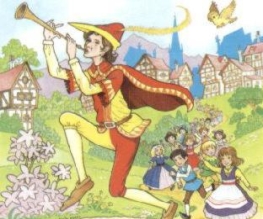 In the last few months we've heard news on adaptations of Snow White, Hansel and Gretel and Jack the Giant Killer. We've seen (or at least someone has) films based on fairy tales such as the dreadful Beastly, Red Riding Hood and Tangled and that stream of fairy tale movies shows no sign of abating with the news of Fox turning the Pied Piper into a "fantasy thriller".
Lord, give me strength. Or at least strike this project down.
As the legend goes the town of Hamelin in Germany hired a pied piper to drive out an infestation of rats using his magical powers. When the town refuses to pay he uses his magic on the children, luring them to their deaths. I suppose the eventual film will have none of this apart from someone called the Pied Piper.
Described as a "re-imagining" (i.e. shameless cash-in), Max Landis (son of Hollywood director John Landis) will pen the script. He currently seems to be in favour with his spec script Chronicle selling last year (to Fox, no less), and script duties for Universal's Amnesty, a possible directing gig for Ron "safe hands" Howard.
With the film being in the early stages of development no director or actor has been attached so expect it to start generating buzz soon.
About The Author