3, 2, 1…Frankie Go Boom release first trailer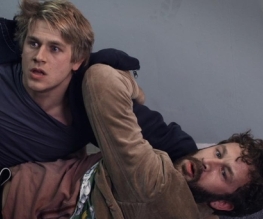 So here's a great premise; a sexy guy has a chance encounter with a sexy girl and they have sexy sex – that's fun. BUT WAIT, sexy guy's stupid brother has filmed them and given the tape to the local porn king – that's silly, they'd better go and get it back. BUT WAIT, sexy girl turns out to be the daughter of the local porn king – cue farcical condom/boob/pig/pond/porn based scenarios as they try and get it back. All sounds a bit silly if you ask us. But don't ask us, have a gander for yourselves.
Charlie Hunnam (Sons of Anarchy) is Frankie, the sexy guy, Chris O'Dowd (Bridesmaids) is the stupid brother and Lizzy Caplan (Hot Tub Time Machine, Mean Girls and embarrassing piece of soon-to-be released nonsense, Bachelorette ) is the sexy girl. Ron Pearlman, the artist formerly known as Hellboy is that man in drag and Chris Noth the local porn king.
It'll be slap-sticking its way onto our screens for the 12th October and we're sure they'll be plenty more teasers and trailers along the way, hopefully we'll even learn why Caplan is wearing nothing but an edible bra.
About The Author