Meryl Streep and Julia Roberts to play Mother and Daughter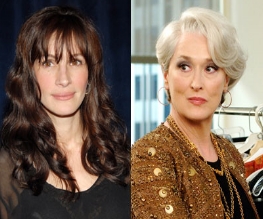 It doesn't seem right. Streep and Roberts. Roberts and Streep. Either way, the two names don't seem to go together. Meryl Streep, being the hugely respected, integral actress who still knows how to let her hair down (yeah, I'm thinking of her rolling around on the roof in Mamma Mia as well) and who has earnt herself more Academy Award and Golden Globe nominations then any other actor in history. And Julia Roberts, well, she smiles a lot.
But as mismatched as they seem, these two American ladies are all set to play a Mother-Daughter team in an adaptation of Tracy Lett's August: Osage County, the Pulitzer Prize-winning book and Tony Award-winning play. Sounds like a winner.
The story line sounds pretty heavy, with Streep playing a drug-addicted matriarch with a confrontational relationship with her daughters; Roberts taking the role of the oldest. I'm sure more family drama will occur, you know, the usual arguments and debates that intrinsic to a disfunctional family. Funny how The Addams Family always seemed to get along. But I'm sure Meryl will shine in her role, despite the issue-based story. And Roberts will bask in her glow. Plus, I like Meryl (in character) on drugs. The gun wielding, Ghost Orchid drug-induced Susan in Adaptation springs to mind.
Plus, August: Osage County sounds like prime Oscar-winning material; drugs, family problems etc. After winning just one award, maybe Julia Roberts can get herself a bigger slice of the pie.
About The Author