Will Anne Hathaway sing in Judy Garland biopic?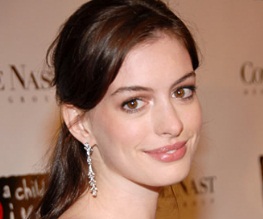 Anne Hathaway, who's just finished sexing it up with Jake Gyllenhal in Love And Other Drugs (its a tough life) has recently been signed up to play Judy Garland in an upcoming biopic. The only problem? She's worried she can't sing.
The Oscar-nominated beauty has been in talks to star as the screen legend – best known for her portrayal of Dorothy in 1939 movie The Wizard of Oz – since early 2009, and it seems that the current plan is to have her cover Garland's singing voice as well as speaking.
She said: "I certainly don't sing like Judy Garland but the talk is to have me do the singing. But I think people might cry murder if they don't get to hear Judy's beloved voice so the talk is for me to sing but I don't know if that's exactly what will happen.
"It's a very sensitive project and there have been so many stories told about her life that we're really trying to get it right."
Would it be strange to hear anyone except Judy sing "Over The Rainbow"? Well… yes. And hey, dubbing worked pretty well for the beautiful Audrey Hetburn in musical classic My Fair Lady. But then again, it would be nice to know that what we hear matches what we're looking at. And we suppose it might be a bit strange to hear Garland's iconic tones spout from Hathaway's face. What say you?
About The Author