A brand-new Mr Ed?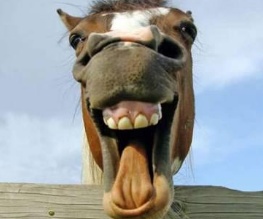 Do you remember how we said War Horse was coming out next year, which sees an equine take the reigns from the humans and pursue the lead role? And do you remember how it's probably going to almost definitely get an Oscar nomination?
Yup. Everybody loves horses, so it makes sense that Studio Fox 2000 has snapped up the big-screen rights to the TV sitcom Mister Ed. Remember Mister Ed? That's the one with the TALKING pony. Can we control our excitement? Quite frankly, no.
The four-quadrant family movie will be based loosely on the tale woven in the 150 episodes of the 1960s TV show; were the 60s more receptive to talking animals? Maybe. However, with the studio who created Marley And Me and Alvin And The Chipmunks behind this (shudder), as well as producer Elizabeth Gabler, a self-confessed "equestrian enthusiast", this has got every chance of not being terrible. Every chance.
They have confirmed that, despite lacking a script or cast, they do know one thing; the film will depict a GENUINE horse and a little bit of CGI magic for chatting purposes.
Ill-advised remake or a stroke of genius? Only time will tell…
About The Author