A flurry of new pictures for The Hobbit: An Unexpected Journey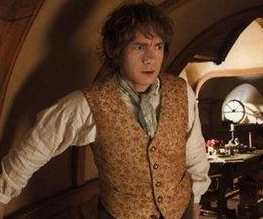 Warner Bros have released a group of new stills from Peter Jackson's The Hobbit: An Unexpected Journey, and very handsome they are too.
For those unfamiliar with the story, it turns out that before Frodo Baggins took over the mantle of Hobbit Explorer Extraordinaire (we imagine that's what he likes to call himself) in The Lord of the Rings, his old uncle Bilbo used to look remarkably like Martin Freeman, and had plenty of adventures of his own.
The Hobbit tells the story of Bilbo Baggins and his original adventures with Gandalf; the discovery of the One Ring; a rather greedy dragon; and a small army of dwarves, among the myriad other denizens of Middle Earth. Here are some of them , in all their glory. Click to enlarge.
Released via the film's official app Hobbit Movies (which features plenty of other Hobbity tidbits), the images continue to suck us back into the world of Middle Earth, like a Balrog dragging us down into the fiery abyss. Except in a good way.
Alongside shots of angry, twin-sword wielding dwarves, and Martin Freeman looking confused (imagine!), the most intriguing development is our first look at Elfen King Thranduil.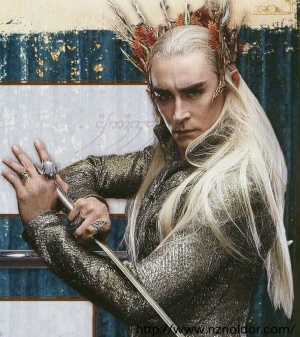 Portrayed by Lee Pace, Thranduil provides some continuity with Jackson's earlier films, as he is none other than the father of everyone's favourite elf, Legolas (Dobby doesn't count, alright?). Garbed in Elfish finery more akin to Hugo Weaving's Elrond than Legolas' natty threads, nevertheless, the striking silver hair is a dead give-away, and it will be interesting to see if Thranduil is as receptive to the film's many dwarves as his son eventually came to be in LOTR. We can't help but feel that twelve Gimlis at once might have tested even Legolas' patience…
These new images have certainly got us clamouring for more Middle Earth, but we'll have to wait until The Hobbit: An Unexpected Journey opens in the UK on 14 December 2012 to see Bilbo's journey begin.
About The Author