A motion poster for The Possession you definitely want to see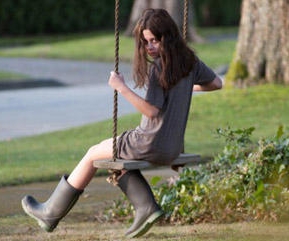 Next up in new-fangled marketing ploys to steal all our money for the sole purpose of giving little Ritika a 5p pay bump to make 3D glasses is the cacophonous motion poster for The Possession, with which Sam Raimi (Spider-Man) is trying to kill us with FLICKERING and SQUAWKING. It doesn't even have Karl Urban trying to shoot us in it – poor effort, Sam.
Check out the poster here – dig out your headphones for the full scaryoscopic effect:
[swfobj src="http://thepossessionmovie.com/motionposter/possessionposter.swf" width="256″ height="714″]
The sheer volume of effort involved in the poster is definitely commendable, and we were suitably unnerved at just how many frequencies in which this girl can yowl. However, the butterfly-sputum puts a spanner in the terror-works. Either way, it's COOL. If loud, for our elderly eardrums at BFF.
The film follows the story of an idiot teenage girl Em (Natasha Calis) who idiotically buys an antique box at a car-boot sale and idiotically opens it – have Pandora's exploits taught us nothing? Not to mention that apple-eating bint – Eve or something. ANYHOW, complete lack of historical knowledge aside, Em starts creeping out her dad, played by Jeffrey Dean Morgan (Watchmen), who reckons she is being possessed by a malevolent Hebrew spirit, which quickly starts up a body count. Okay then.
The film is directed by Ole Bornedal (who made Masturbator in 2003 – take that however you like) and also stars Kyra Sedgwick (Man On A Ledge) – release date for the UK is 31 August 2012.
About The Author