Aaron Eckhart signs on for Dennis Wilson biopic The Drummer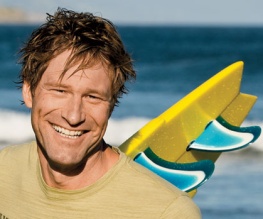 Aaron Eckhart will soon be taking on the first proper biographical role of his career – he's signed up to play Beach Boys drummer and fleeting musical icon Dennis Wilson in biopic The Drummer, written by Randall Miller and Jody Savin. Miller and Savin co-wrote Nobel Son and Bottle Shock, both starring Alan Rickman and directed by Miller; no word yet on whether he'll be directing The Drummer too.
Dennis was first included in the Beach Boys lineup at the behest of his mother, who persuaded his older brother Brian to involve him along with the boys' younger brother Carl and cousin Mike Love. As the only actual surfer in what was then known as the Pendletones, Dennis' observation that "Surfing's getting really big. You guys ought to write a song about it." sparked the band's first single Surfin' and helped define their image as tied in with the California surf scene. However, a lifetime of drink and drug abuse took its toll on his voice and stamina, and in 1984 he drowned at Marina Del Rey after diving into the sea after a day of drinking. He was 39.
As one of the least visible Beach Boys (except when he was streaking during gigs) and the first to die, Dennis Wilson's influence is not as visible as that of his superstar brother Brian. However, his only solo album Pacific Ocean Blue, which showcased his talents as a multi-instrumentalist, gained a cult following and was critically acclaimed both on its release in 1977 and when it was rereleased a few years ago. Eckhart is reportedly learning to play the piano and drums as well as taking singing lessons in preparation for tackling Wilson's entire range of musical skills.
Another interesting – and chilling aspect of Dennis Wilson's life, and one which is certain to make it into The Drummer was his friendship with infamous cult leader Charles Manson. After picking up a pair of female hitchhikers from the Manson-controlled 'Family', Wilson returned home one evening to find Manson and around a dozen of his followers in Wilson's house; they then stayed for some time at Wilson's expense, whilst Manson himself recorded songs in Wilson's home studio and even wrote one which was later recorded by the Beach Boys. Most chillingly, Wilson was responsible for introducing Manson to producer Terry Melcher, who was renting a house later occupied by Roman Polanski and his wife Sharon Tate. Aged 26 and eight and a half months pregnant with her first child, Tate was later murdered by members of the Family acting on Manson's orders.
We're actually genuinely excited about this; his odd supporting role in Erin Brockovich aside, a juicy biopic has thus far been conspicuous by its absence from Aaron Eckhart's CV. Their reasonable physical resemblance aside, Eckhart could potentially do a very, very good job of capturing Dennis Wilson's 'dark horse' character and increasingly troubled later life. Watch this space for more info!
What do you make of Eckhart's casting? Let us know below!
About The Author