Agents of S.H.I.E.L.D. gets another promo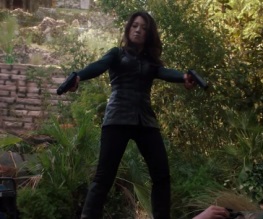 Just admit it! When the stiff and severe Agent Phil Coulson took one for the team and died a hero's death, something deep deep inside of you broke out in a quiet but, surprisingly, dramatic "NOOO!". And well you might – Clark Gregg's stoic character had become a staple of the Marvel superhero flicks, providing from the sidelines a much needed contrast of humanity to the sometimes overwhelming greatness going on. So it was with a sigh of relief that we greeted the reveal of his miraculous resurrection in the first trailer for Agents of S.H.I.E.L.D..
Since then the publicity has been coming in hot and heavy, pushing the momentum initially garnered by Avengers Assemble to rack up as much interest as possible. And just in case you haven't felt teased enough, ABC has released another inspiring preview, geared towards the adrenaline centres of our brains.
Check out all the action here:
Previously, we'd been given some idea of the premise: hand-picked by Coulson, a team of S.H.I.E.L.D Agents investigate the new, the strange, and the unknown across the globe in order to protect the ordinary from the extraordinary. We've also had a rundown of the characters involved: their combat and espionage expert is Agent Grant Ward (Brett Dalton); the seasoned Agent Melinda May (Ming-Na Wen) fills the pilot and martial arts specialist position; Agent Leo Fitz (Iain De Caestecker) is the authority on all that is engineer related while the role of genius bio-chemist is left to Agent Jemma Simmons (our very own Elizabeth Henstridge) with new recruit, Skye (Chloe Bennet), coming in as the requisite computer hacker. This latest clip amps up the thrills by showcasing the proposed action sequences, illustrating quite the rollercoaster ride.
Produced by the legendary Joss Whedon means that there are some high hopes attached to the series, but nothing is certain until the 27th of September rolls around and we can catch it on Channel 4 at 8pm.
About The Author