Alan Turing biopic finds director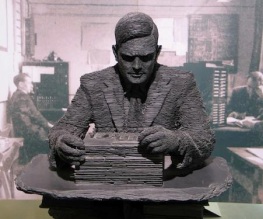 Alan Turing's planned biopic The Imitation Game, based on Andrew Hodges' 1983 book Alan Turing: The Enigma, sprang to our attention when Graham Moore's screenplay topped the 2011 Black List – an annual list of the most popular unproduced screenplays floating around Hollywood. Since then the production has hit a number of bumps along the road. After being sold to Warner Bros. for an alleged seven-figure sum, Leonardo DiCaprio was in the running to play Alan Turing. However, after DiCaprio pulled out, the studio became more reluctant and the rights reverted back to Moore.
Thankfully, Morten Tyldum, the Scandinavian director of 2011 thriller Headhunters, has been hired by Black Bear Pictures to bring Alan Turing's life and work to the attention of millions. The English mathematician, logician, cryptanalyst, and computer scientist was pivotal in cracking the German Enigma code during the Second Wold War, a crucial breakthrough that turned the tide towards an Allied victory. Unfortunately, post-war Britain being post-war Britain, and Alan Turing being gay, it wasn't a happy ever after. Turing was prosecuted in the 1950s for homosexuality and forced to choose between chemical castration or prison – nice that they gave him a choice, hey? He chose chemical castration but was so crushed by the whole sordid affair that he committed suicide by eating a cyanide-laced apple. Legend has it that the Apple branding is Steve Jobs' own tribute to Alan Turing.
Marking the centenary of his birth, 2012 has been dubbed The Alan Turing Year, and it seems unfortunate that Moore's screenplay could not have emerged in time for this anniversary. However, with a new director at the helm and planned financial backing from production company Black Bear, hopefully the genius and tragedy of Alan Turing's story will soon be brought to the big screen.
No offence, Leo, but we're actually quite glad you passed on the role. Who would you most like to see dignify this portrayal of Alan Turing?
About The Author