Alec Baldwin Boycotts Emmys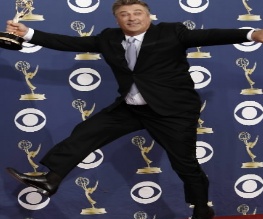 In an effort to preserve our honour as a film website rather than a showbiz one, we're trying to keep away from covering the Emmys. It is a TV thing, after all. However, when Alec Baldwin dropped out of last night's awards after a censorship dispute with Fox, we decided to bend the rules. Alec Baldwin used to be in movies, right?
Baldwin, who was scheduled to present an award, was horrified when at a pre-taping he was asked to remove a joke regarding Rupert Murdoch and the infamous phone hacking scandal. Like all good celebrities, he went on a twitter rampage about it.
On Sunday, Baldwin tweeted "Fox did kill my NewsCorp hacking joke. Which sucks bc I think it would have made them look better. A little."
Despite being nominated for Outstanding Lead Actor in a Comedy Series for 30 Rock, Baldwin followed through on his boycott of the awards. Well, that's the official line anyway. He could have just realized that he'd already won the thing twice and wasn't bothered about going.
Later that day, Baldwin tweeted: "If I were enmeshed in a scandal where I hacked phones of families of innocent crime victims purely 4 profit, I'd want that 2 go away, 2."
We admire Baldwin taking a stand over Fox's censoring of the joke, but we just wish celebrities would stop declaring their manifesto on Twitter. It just looks a bit ineloquent, doesn't it? Particularly when they start using numbers instead of letters.
About The Author