John Cusack is Edgar Allan Poe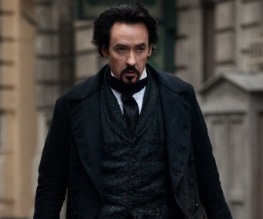 What's that? John Cusack is Edgar Allan Poe in James McTeigue's The Raven, due for release in 2012? Yup, apparently so. And, devoid of any trailers, we've had to content ourselves with film stills for the time being.
The Raven will not echo Edgar Allan Poe's most infamous poem of the same name, which tells the story of a tortured man who has lost his wife Lenore and, in the wake of her death, is harangued by a demonic raven. I suppose it's for the best; two hours with John Cusack and a talking bird might have felt a little tedious to say the least.
Instead, The Raven offers up a fictionalised account of Edgar Allan Poe racing to identify the serial killer that is employing elements from Poe's stories into each and every murder. To make things even more horrifying, his beautiful wife (Alice Eve) finds herself buried alive. Hey, if it worked for Ryan Reynolds, it can work for her too!
Psychological torture. Raw human terror. John Cusack in a period drama, looking suspiciously like Robert Downey Jr in Sherlock Holmes. This film has definitely piqued our interest!
About The Author