Alexis Bledel, Penn Badgley, and more join cast of Parts per Billion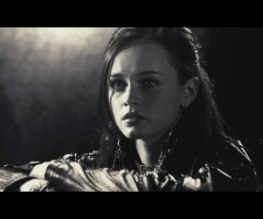 Alexis Bledel, of Gilmore Girls and Sin City fame, has been announced as the latest cast member on the long roll of actors involved in upcoming romantic drama Parts per Billion. Gossip Girl's Penn Badgley (still lovely, despite his recent penchant for ridiculous hair) has also been revealed as starring alongside Alexis Bledel, as well as Teresa Palmer and CSI's Hill Harper. This group of young lovelies join already confirmed cast members Frank Langella, Gena Rowlands, Rosario Dawson, and Josh Hartnett for the film which began shooting in Detroit this month and is due for release sometime in 2014.
Parts per Billion is the directorial debut for screenwriter Brian Horiuchi and is set to follow the trajectories of three different couples as they face up to the possibility of a catastrophic biological war. The interwoven stories of Len, Mia, Andy, Esther, Anna and Erik, is set to span generations from Langella and Rowlands to Bledel, Badgley and Palmer, as they are challenged with a series of life-altering decisions. With any luck, Parts per Billion will prove to be Crash meets any-disaster-film-with-Will-Smith.
Rosario Dawson will be involved in the production side of Parts per Billion, as well as contributing to the ensemble cast, two of whom (Josh Hartnett and Alexis Bledel) she previously appeared alongside in Sin City. With Frank Miller and Robert Rodriguez reuniting for the 2013 sequel Sin City: A Dame to Kill For, and Dawson, Hartnett, and Bledel mingling on the set of Parts per Billion, could we see more of them restored to the fold in a reprise of their Sin City roles? Dawson is already on board for A Dame to Kill For, so lets see if she can sweet-talk Alexis Bledel into returning as her fellow prostitute.
If a Sin City reunion is on the cards, who would you most like to see reappear in A Dame to Kill For?
About The Author