Tintin adventuring once more in 2015, says Peter Jackson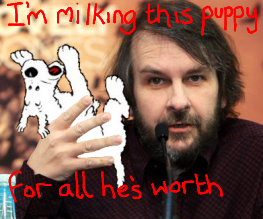 Tintin will return in a follow-up to 2010's The Adventures Of Tintin, so sayeth Peter Jackson. Looking ahead past The Hobbit trilogy, the executive producer of the first Tintin film will be switching roles with director Steven Spielberg for the sequel. Peter Jackson could be also be directing the 3rd entry in the proposed Tintin trilogy. He certainly loves his triplets, doesn't he?
The Adventures Of Tintin: Secret of the Unicorn brought Hergé's classic comic to the big screen for the first time via performance-capture technology. It certainly looked impressive, and ticked all the requisite Tintin boxes (like those Quality Street comes in, only doubly tinny), but it didn't do as well as the studio had hoped considering the cost of making the thing. Still, The Adventures Of Tintin did reap a healthy international profit, so a sequel isn't ill-advised, and we'd love to see where Peter Jackson and Steven Spielberg could take the series. Hopefully Edgar Wright will return to help write the screenplay!
It will be a busy time for Peter Jackson over the next couple of years. With The Hobbit: An Unexpected Journey finally out of the way, he's still got The Hobbit: The Desolation of Smaug to edit for December 2013 AND THEN there's The Hobbit: There and Back Again set for summer 2014. The plan is finish the performance capture of the Tintin sequel in 2013 for a 2015 release. There are many Peter Jackson fingers in many pies at the moment. Better watch what you eat.
Are you interested in a Peter Jackson-directed Tintin trilogy? Did you enjoy The Adventures of Tintin: Secret of the Unicorn?
About The Author