Angelina Jolie pushes for new writer on Salt sequel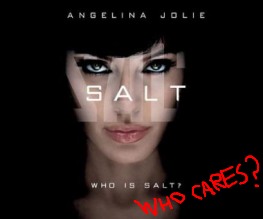 Angelina Jolie, when not stealing other people's husbands or adopting children, is best known for kicking ass in body-hugging clothes. Back in 2010, as we all well remember, this ass-kicking took the form of the title role in Phillip Noyce's Salt. Salt didn't score hugely at the US box office, but apparently was a massive hit overseas (WHERE?!), therefore persuading Columbia Pictures that it was worth restoring Angelina Jolie to the hair-dying, cross-dressing, train-jumping, venom-extracting helm in a sequel. However, Noyce publicly announced that he had no intention of returning to Salt for a sequel as early as five months after the original, twitching his furry whiskers right off that sinking ship.
But nothing can stop the relentless march of Hollywood… Columbia Pictures got original screenwriter Kurt Wimmer working on a script for the sequel last year; unfortunately, this appeared not to meet Angelina Jolie's exacting standards, and she allegedly refused to work on Wimmer's script. This is Oscar-winner Angelina Jolie, Kurt Wimmer! You can't just palm her off with an average sequel to an average film! So with a refusal from the original director, a rejection of the original screenwriter, and reluctance from the original Angelina Jolie, you might be forgiven for thinking that Columbia Pictures would just scrap the sequel idea, BUT OH NO! This is Hollywood! The place where dreams and integrity go to die. Like certain venereal diseases, Salt just keeps on coming back.
The latest ploy to get Angelina Jolie back on board is the announcement that Columbia Pictures are in talks with screenwriter Becky Johnston concerning the Salt sequel. Johnston is best known for character-driven dramas like the 1991 Prince of Tides, for which she was nominated for an Oscar, and 1997's Seven Years in Tibet, on which she was lucky enough to work with Angelina Jolie's husband, otherwise known as Brad Pitt. Johnston's latest piece is Arthur Newman starring Colin Firth and Emily Blunt which previewed this year at the Toronto Film Festival. LOOK AT THAT, ANGELINA JOLIE, SHE'S A PROPER ONE! SHE NEARLY GOT AN OSCAR LIKE YOU DID!
If Angelina Jolie doesn't agree to come on board, Columbia might just pull a Bourne Legacy on us and replace her altogether. Who do you think would make a suitable Jolie replacement for the Salt sequel? Tentatively titled Saltier.
About The Author