Will Smith is the last guy on Earth. Again.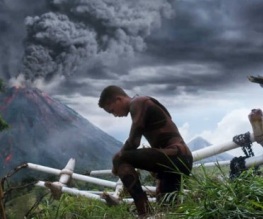 Will Smith just can't catch a break, can he? In this new trailer for M. Night Shyamalan's upcoming sci-fi thriller After Earth, he's enjoying some actorly father-son bonding with Jaden on an intergalactic space jaunt when BAM. Asteroids crash the party and send their ship hurtling toward a mysterious blue orb, the name of which won't be revealed until the end of this here trailer for After Earth.
OK, so he's not alone, but Will Smith is definitely the only man around. Imparting voice-over-y hard-knock wisdom to son Kitai, Big Willy's General Cypher Raige – a name presumably nicked from an unproduced script for Small Soldiers 2 – verses him in the ways of masculine courage on a strange alien planet. SERIOUSLY M-DOGG, WHERE ARE WE?
Well, it's a class-1 quarantined planet, which we presume is future-speak for THE MOST QUARANTINED a planet can be, and the threats they face will be real. Danger is very real, but fear is definitely not. Got that, Jaden? BTW, do you know where we are? Find out if you dare:
Shyamalan's last three stints in the director's chair have yielded two Razzies for Worst Director, and three noms for Worst Picture. 'From the mind of M. Night Shyamalan' is more a warning label than anything else these days, so you'll pardon us if After Earth doesn't get our pulses racing.
What self-serving cameo will M. Night grant himself this time round? Thoughts below.
About The Author