Anne Hathaway and Chloe Moretz join dark comedy Laggies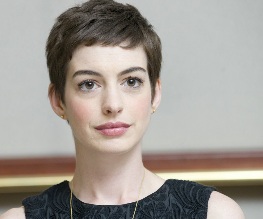 Woman of the moment Anne Hathaway and Kick-Ass star Chloë Moretz have been cast in comedy Laggies alongside the pretty brilliant Sam Rockwell – who'll probably out-act both of them. The project, directed by Lynn Shelton, focuses on an immature woman called Megan (Hathaway) who runs away with her teenage best friend (Moretz) after her boyfriend proposes to her. Mark Webber from Scott Pilgrim vs The World is in negotiations to play Megan's boyfriend and Rockwell will play a character called Craig. Meanwhile, novelist Andrea Seigel will write the screenplay.
Shelton has made a wise move in casting Hathaway, who is likely to be very in demand after bagging her first Oscar for Lés Miserables in February. She's starred in comedies before, for example The Devil Wears Prada, but usually as the straightwoman and never the source of the gags. It'll be interesting to see whether she can pull funny off, especially opposite Moretz and Rockwell. The plot sounds a bit too Young Adult to us, though, which saw Charlize Theron play a character very similar to Megan.
About The Author