Avatar Fever Hots Up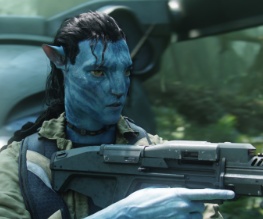 20th Century Fox have released a new featurette about the human technology that's being employed in the hotly-anticipated Avatar. The three minute video features the usual big-upping platitudes from head honcho James Cameron, Richard Taylor from WETA and producer Jon Landau, as well as cast members Sigourney Weaver, Giovanni Ribisi and Michelle Rodriguez (who's hotter than the heart of the sun: FACT). We've provided a link below, cause we're lovely like that.
Yet try as they might – and ignoring the fact that this is little more than another trailer feeding an already bloated hype machine – we can't shake the feeling that much of the footage so far still suffers from the immortal CGI curse – you don't quite buy it. Maybe it's the fact that many of the film's visuals we've seen are fairly similar in design to Halo and its sequels, but the whole thing still looks a helluva lot like an XBox game. Naturally, we're deferring judgement until its release, but from what we've seen so far, Avatar is going to need more than fancy visuals to win us over.
Still, the featurette isn't the only Avatar footage to find itself on the web this week – along with a poster, four minutes of the French version of the film were leaked on Wednesday… but dash it all, we weren't quick enough. 20th Century Fox put the kybosh on many of the sites that were hosting it, so we'll just have to sit and wait for the proper theatrical release. Y'know, like we're supposed to.
About The Author