Avengers Assemble assembles all the money ever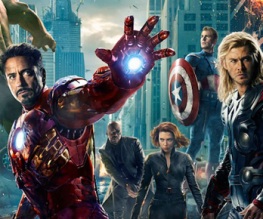 Marvel Avengers Assemble has stormed to an extraordinary £15.8m gross on its opening weekend in the UK, effortlessly breaking more records than Bruce Banner does heads.
Among its most significant achievements were redefining the highest UK 3-day opening for any Disney film OR superhero film… ever. The Marvel epic also set a new record for the highest ever Disney one-day gross, and its weekend box office alone beat the ENTIRE UK takings for both Captain America: The First Avenger and Thor.
Inexplicably, the film has yet to open in the United States – but its success is already assured. Avengers Assemble's worldwide gross this weekend was a spectacular $178.4 million, taking it almost one fifth of the way to joining the prestigious billionaires' club after just four days. It also opened at #1 in ALL 39 of the countries which showed it this weekend, and became the highest-opening film of all time in countries including Mexico, Brazil, Argentina, Ecuador, Peru, Bolivia, Hong Kong, Taiwan, Malaysia, New Zealand and The Philippines.
Wow.
Have you seen Avengers Assemble yet? Obviously you have.
About The Author