Bad Santa 2 – Billy Bob Thornton says 'yes'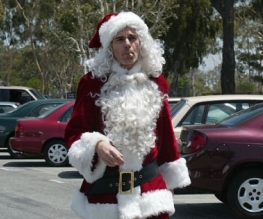 Along with the dark times when he was so poor and messed-up he'd eat nothing but over-fried potatoes, Billy Bob Thornton has done a lot of good things with his life. He's married Angelina Jolie. He's written, starred and directed in a grab bag of films of varying success and quality. And he's taken the lead role of Willy in Bad Santa.
Bad Santa is the perfect catharsis to generic Christmas film fayre (yes, that should be 'fare', of course it should… but the Spirit of Generic Christmas touched us in a bad place and made us do it). It's a movie that is more than the sum of its parts, and its most vital part is Billy Bob Thornton starring as a horribly raunchy drunken thieving conman who dresses as Santa to rob department stores.
Thornton recently told Collider that, along with aiming to direct his new screenplay Jayne Mansfield's Car, he is wholeheartedly up for a Bad Santa sequel.
Thornton revealed of Bad Santa 2, "there's been talk of making a sequel to it, which I actually would like to do."
So there you have it! Bad Santa 2 could be an inglorious reality! It's best not to hold your breath, but if there's talk about it, and Thornton has said he's willing to step up, then we may see a reprise of the filth that made Bad Santa as much of a timeless Christmas classic as It's a Wonderful Life. Let's hope Billy Bob puts a little sumpin'-sumpin' in our collectively ripped stockings soon…
About The Author