First official image from The Twilight Saga: Breaking Dawn arrives online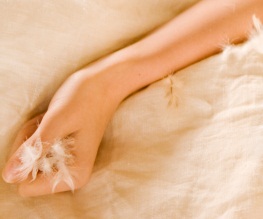 Should you have clicked on this link for the promise of a more tantalising glimpse of the upcoming Twilight Saga: Breaking Dawn Part I, I'm sorry to disappoint. Debuting on Bill Condon's twitter, unless you are Twihard enough to be sated by further arm and a greater amount of bed, the first official photo from the penultimate instalment of Summit Entertainment's flagship franchise is a bit of a non-starter.
Considering the have-to-see-it-to-believe-it nature of Stephanie Meyer's fourth book, it is entirely possible that this was the only image suitable for computer screens of all ages. Boasting a series of increasingly bizarre and grotesque set-pieces, it is giving nothing away to describe the upcoming two parter as inherently icky.
With the first trailer for the movie – whether they release a combined Part I/Part II trailer in the vein of Harry Potter and the Deathly Hallows or not – likely still a while off, fans of the saga will have to console themselves in the knowledge that Bella, at least I presume it's Bella, will at some point in the movie clutch a handful of feathers. Unless the scene is cut, of course.
The Twilight Saga: Breaking Dawn Part I will grace a 3D screen near you on November 18, 2011.
About The Author