BAFTA 2013 nominations; a lot of Skyfall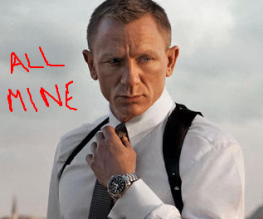 This year's BAFTA nominations have just been announced, and the Best Actress category looks set to be a scorcher. Emmanuelle Riva for Amour, Helen Mirren for Hitchcock and Jennifer Laurence for Silver Linings Playbook are among the competitors, whilst Anne Hathaway and Judi Dench square it up for Best Supporting Actress. Cat. Fight. Frankly, they rain on the nominations for Best Actor, because Ben Affleck's nomination for his performance in Argo seems a little stretched. What about the trolls in The Hobbit, guys?
On the other hand, hello Best Supporting Actor nominees you absolute dynamites. Alan Arkin, Christoph Waltz and Javier Bardem, where do you even start. Outstanding British Film seems to be having a bit of a mare, however, as Anna Karenina seems to have got lost on its way to the Razzies (six nominations is really just not cool). Naturally, Les Mis is being pitted against Life of Pi for Best Film, with a mighty nine nominations each. Thankfully someone's thrown a tantrum so we've also got Argo in there. Phew.
Of course, Skyfall will probably take the crown for every category, if it's up to the British film industry and, like, the world, which really just isn't fair because it's James Bond man, but there doesn't seem to be another truly deserving winner in the Outstanding British Film category. And whilst Tarantino deserves every best award under the sun, Ben Affleck's nomination for Best Director is a well-deserved title.
Meanwhile, over at this year's Razzies, the last of the Twilight films sweep up every nomination ever, including two for the Worst Screen Couple. We're voting for Taylor Lautner and the baby-child-thing Mackenzie Foy.
Cast your eyes on the full list of this year's nominations. Yippeeee-oh, wait… it's pretty predictable.
Best Actress
Emmanuelle Riva for Amour
Helen Mirren for Hitchcock
Jennifer Lawrence for Silver Linings Playbook
Jessica Chastain for Zero Dark Thirty
Marion Cotillard for Rust And Bone
Best Actor
Ben Affleck for Argo
Bradley Cooper for Silver Linings Playbook
Daniel Day-Lewis for Lincoln
Hugh Jackman for Les Miserables
Joaquin Phoenix for The Master
Best Supporting Actress
Amy Adams for The Master
Anne Hathaway for Les Miserables
Helen Hunt for The Sessions
Judi Dench for Skyfall
Sally Field for Lincoln
Best Supporting Actor
Alan Arkin for Argo
Christoph Waltz for Django Unchained
Javier Bardem for Skyfall
Philip Seymour Hoffman for The Master
Tommy Lee Jones for Lincoln
Best Film
Argo
Les Miserables
Life of Pi
Lincoln
Zero Dark Thirty
Outstanding British Film
Anna Karenina
The Best Exotic Marigold Hotel
Les Miserables
Seven Psychopaths
Skyfall
Best Director
Michael Haneke for Amour
Ben Affleck for Argo
Quentin Tarantino for Django Unchained
Ang Lee for Life Of Pi
Kathryn Bigelow for Zero Dark Thirty
Best Documentary
The Imposter
Marley
McCullin
Searching For Sugar Man
West Of Memphis
Best Original Screenplay
Amour
Django Unchained
The Master
Moonrise Kingdom
Zero Dark Thirty
Best Adapted Screenplay
Argo
Beasts Of The Southern Wild
Life Of Pi
Lincoln
Silver Linings Playbook
Best Animated Film
Brave
Frankenweenie
ParaNorman
Best Original Music
Anna Karenina
Argo
Life Of Pi
Lincoln
Skyfall
Best Cinematography
Anna Karenina
Les Miserables
Life Of Pi
Lincoln
Skyfall
Best Editing
Argo
Django Unchained
Life Of Pi
Skyfall
Zero Dark Thirty
Best Production Design
Anna Karenina
Les Miserables
Life Of Pi
Lincoln
Skyfall
Best Costume Design
Anna Karenina
Great Expectations
Les Miserables
Lincoln
Snow White And The Huntsman
So, are this year's nominations an excellent call of judgement or a series of drunken decisions? Leave us a comment and tell us what film you think deserves more credit.
About The Author