Barbra Streisand to perform at the Oscars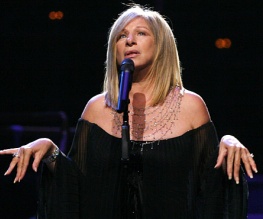 Barbra Streisand has been confirmed to sing at this year's Oscars. Already on the programme is Adele, who will perform the Oscar-nominated theme-tune to Skyfall. It will be the first time that Streisand, now 70, has performed at an Academy Awards ceremony in 36 years. It is still unknown what song she will sing, but it will almost certainly be a night to go down in awards history.
This month Streisand will be awarded with The Chaplin Award by The Film Society of Lincoln Centre. Board chairman Ann Tenenbaum said "The Board is very excited to have Barbra Streisand as the next recipient of The Chaplin Award. She is an artist whose long career of incomparable achievements is most powerfully expressed by the fact that her acclaimed Yentl was the first full-length feature directed, acted, written and produced by an American woman."
Over her career, Streisand has won two Oscars, eight Grammys, five Emmy Awards and a Special Tony Award. There are few people who have ever achieved that. Her two Oscars were won for Best Actress in Funny Girl (1968) and for Best Original Song in Evergreen (1977). The actress also stars in road-trip comedy The Guilt Trip, which will be released in UK cinemas on March 1.
In addition to the performances by Streisand and Adele, the Oscars will be honouring the 50th anniversary of the James Bond franchise by having a Bond themed night. If Sean Connery agrees to it, all six actors that have played Bond will appear on stage together for the first time.
Are you a Streisand fan? What do you think she should sing? Let us know.
About The Author