Benedict Cumberbatch and Noel Clarke join Star Trek 2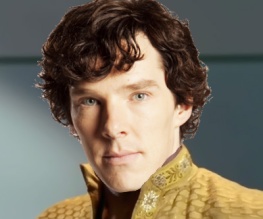 Fresh from getting us all hot under the collar in the new BBC series of Sherlock, Hollywood's sexiest bicycle impersonator Benedict Cumberbatch is blasting into outer space to take up arms against Starfleet. Screw you, Benicio Del Toro – Bandersnatch is officially onboard as the main villain in J.J. Abrams' Star Trek 2. PSYCHED.
After consolidating his international reputation last year with a spellbinding turn as Peter Guillam in Tinker Tailor Soldier Spy, Cumberbatch's 2012 was already looking pretty solid with roles in War Horse and The Hobbit (although he may well not appear until 2013's There and Back Again). Scooping the as-yet unnamed role in Star Trek 2 really is the icing on the cake, although it's icing that will barely have time to harden as production is set to begin in just ten days.
We know it's silly to speculate and that there's every chance J.J. will be conjuring a brand new character for Bandersnatch to inhabit, but sci-fi guru Magda thinks he'd be a good fit for the quirky Next Generation pseudovillain Q, a supposedly omnipotent prankster from the Q Continuum. Anyone out there have an opinion?
Oh yeah, and Noel Clarke's been cast as well. That would have been news on any other day but today, wouldn't it? Ah well. CUMBERBATCH!
Come on, Trekkies – who's playing who? Let us know below!
About The Author