Benedict Cumberbatch to voice Smaug AND SAURON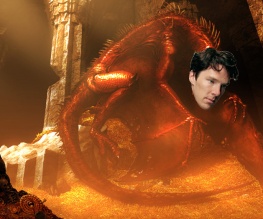 Hey! Remember about ten minutes ago, when we were whingeing about not knowing what Benedict Cumberbatch is doing in The Hobbit now Luke Evans has been confirmed as Bard the Bowman? Well, pencil us in for a lot more whingeing in future, because it only went and worked! We're stamping our tiny feet in outrage on a daily basis from now on.
Following hard on the heels of today's first announcement, it's now confirmed that Benedict Cumberbatch will play Smaug the dragon through motion capture. However, that's not all. Most news outlets are dismissing the accompanying news that Bandersnatch will also be voicing the character of 'The Necromancer'.
Ahem, people who haven't read The Hobbit? We got news for you. That Necromancer fellow? He's Sauron. SAURON. BLOODY SAURON! This is unbefuckinglievably cool.
Did you just have a little wee? SAURON! Express your incoherent joy below:
About The Author