Big Momma's House 3? Really?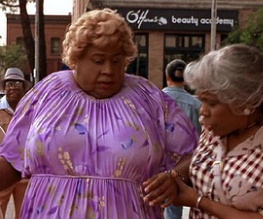 Yes, folks, just in case Alvin and the Chipmunks: The Squeakquel wasn't enough proof for you that the cinematic apocalypse draws near, a director has now been confirmed for a third Big Momma's House film.
John Whitesell, the minion of the anti-Christ that brought us Big Momma's House 2, has been signed on to direct the third in this thrilling trilogy. The man has an extremely average CV, the highlight of which was probably 2001's See Spot Run (enough said), so we're betting he probably didn't have much else to do.
It was enough of a bile-inducing shock to us to hear this film was being made, but imagine the horror when we discovered what the first two had grossed at the box office. While the budgets for both Big Momma's House and Big Momma's House 2 were both around the $30 million mark, they managed to make $178 million and $138 million respectively! Really makes you fear for the future of mankind.
Martin Lawrence has also signed on again to play Big Momma, aka FBI agent Malcolm Turner (whose cover would have to be blown by now, surely?), while the screenplay is being written by Randi Mayem Turner of Mrs Doubtfire fame (clearly a woman who can't get enough of comedians in old-lady drag). Shooting begins in Atlanta in April. Let the crapulence begin.
What do you think of this fresh assault to the world of cinema? Let us know below.
About The Author