Bill Paxton is getting his Kung Fu on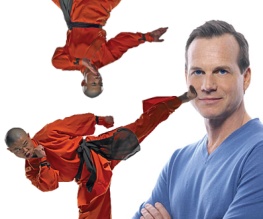 Well they're all at it these days, aren't they? Philip Seymour Hoffman has made his directorial debut in Jack Goes Boating, Sean Penn is directing Robert De Niro in The Comedian and now Bill Paxton (that's Paxton, NOT Pullman people) is in talks to direct a film adaptation of 70s TV show Kung Fu.
For Paxton – star of HBO's Big Love and that guy in Titanic with the earring – this isn't his first foray into the world of directing. He has previously had the (terrible) luck to direct Matthew McConaughey in crime thriller Frailty, alongside getting behind the camera for The Greatest Game Ever Played, some sort of golf drama (we had always thought those two words were mutually exclusive).
The TV version of Kung Fu followed the exploits of a Shaolin monk (played by David Carradine) wandering the American West, and getting into countless scrapes along the way. There's no word as of yet on casting, but John McLaughlin (one of the writers behind Black Swan) will be scripting the project.
Any thoughts about who should take the lead in this big screen remake? Taylor Lautner? Bill Pullman? Someone actually Asian?
About The Author