Billy Bob Thornton premieres new film at Berlin, announces Bad Santa Two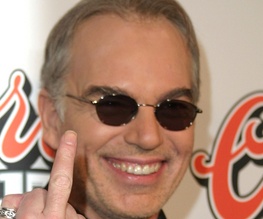 There's been plenty of note at the Berlin Film Festival this week, not least the premiere of Billy Bob Thornton's fourth directorial effort Jayne Mansfield's Car. With a heavyweight cast featuring Billy Bob, John Hurt, Kevin Bacon and Robert Duvall, the drama investigates changing attitudes to war and family in counter-culture America.
It is nice to see Thornton finally get back behind the camera after the humiliation of All the Pretty Horses getting chopped to bits by the Weinsteins and the lukewarm reception afforded Daddy and Them. The last few years have seen the Arkansas wild-man content to lend his considerable acting chops to production line comedy fare such as Bad News Bears, while occasionally dipping his toe in hugely misjudged drama like The Informers. So what brought Thornton back to directing? Antipathy, mainly.
"I was complaining a lot about the state of movies in America," Thornton told press in Berlin. "Instead of complaining, I decided to just write one and direct it, and it's a story that I'd had in my head for a long time. One of the things that's wrong with movies today is they try to squeeze people into roles who don't belong there simply because of their popularity."
Thornton also disclosed some potentially troublesome info regarding a return to one of his best loved roles – that of Willie T. Stokes in Terry Zwigoff's ultimate anti- Christmas movie Bad Santa. "The writer is still working on the script, he's doing his rewrite right now," said Thornton of Bad Santa 2.
Though that may have fans of the first, gloriously unsentimental outing gritting their teeth in apprehension, having Thornton back in creative, enthusiastic mood should be, generally, seen as a good thing. He was once, after all, one of mainstream cinema's most rebelliously interesting performers so let's hold off on drop-kicking BS2 until more is known.
About The Author